Company Awards
Our Awards
We've been honored and privileged over the years to be recognized by some of the top industry organizations and publications in the label business. Each award is a testament to all of the contributions all our employees, customers and vendors have made over the years.
Get to know us in our overview video and check out our facility, or read about our company's history!
Eugene Singer Award – 16 years in a row
Every year, the Tag & Label Manufacturers Institute (TLMI) recognizes companies that demonstrate excellence in business management as measured by a set of growth and profitability ratios that are calculated as part of TLMI's annual Management Ratio Study. Named after the originator of the study, the Eugene Singer Awards for Management Excellence attract more than 90 entries from TLMI member converters throughout the United States and Canada. At TLMI's 2018 Converter Meeting, held in San Diego, Consolidated Label Co. received an award in the Large Company category.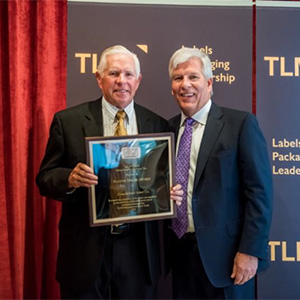 Various Industry Awards
Vendor of the Year 2017
Century Systems equipment distribution
packagePRINTING Excellence Awards 2014
Second Place – In the category of "Flexible Packaging – Flexo (Process)," we were awarded second place for Rio's shrink sleeve labels.
Tag and Label Manufacturers Institute Awards 2014
First Place – Excellence in technical achievement in the category of "Digital Printing – Color Process Non-Prime" for Do You Cold Foil? custom labels.
Tag and Label Manufacturers Institute Awards 2014
Second Place – Excellence in technical achievement in the category of "Flexography – Line/Prime" for Animal Pharmaceuticals Pharmaseb Flush custom labels.
Hewlett-Packard Appreciation 2011
Presented at the sixth annual Digital Solutions Cooperative (Dscoop) Conference – run by a community of HP graphics professionals – HP Asia Pacific honored us with special thanks for our thorough education and consultation services toward the understanding of label manufacture, technology and innovation.
World Label Awards 2010 – Kaña Cuban Coffee Roasters
After winning First Place nationally through TLMI for our treatment of a Kaña Coffee label, Consolidated Label's design competed against the best labels from Japan, Europe, Australia, New Zealand and India for the World Label Awards. Consolidated Label won an award for Excellence in Technical Achievement in Printing at the World Label Awards based on our creative enhancements to Kaña's label design.
Tag and Label Manufacturers Institute Awards 2010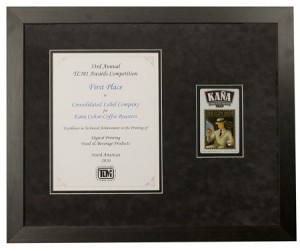 First Place – For technical achievement in digital printing, TLMI awarded our creativity towards the tactile UV finish of Kaña Cuban Coffee Roasters label with First Place – over all North American label manufacturers – within Food & Beverage products at the 33rd annual printing competition.
Flint Group Print Awards – '07 to '10
Since 2007, ink provider Flint Group has continued to recognize Consolidated Label for overall printing quality, and in product subcategories including Best Flexo Film, Best Water-Based Flexo, and Best Cold Foil.
Further Reading
Call today to speak with a specialist about your unique project.
Or try our online instant pricing calculator.
Get Pricing