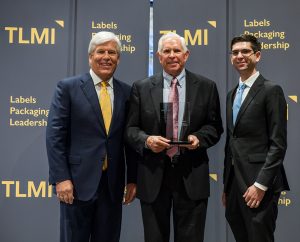 Sanford, Fla. — Consolidated Label Co., a leading supplier of custom labels in the United States, is proud to announce that President Joel Carmany has been named the 2018 Converter of the Year from the Tag and Label Manufacturers Institute (TLMI) at its recent annual meeting in Florida.
Presented in conjunction with packagePRINTING magazine on an annual basis, the Converter of the Year Award honors and recognizes a member of the North American package printing industry who has made an extensive contribution to the greater marketplace and who has additionally demonstrated an unwavering commitment to TLMI. According to TLMI president, Dan Muenzer:
"I cannot think of a TLMI converter more deserving of winning the Converter of the Year award than Joel Carmany. Since joining TLMI, he has had an open-door policy, hosting other TLMI converter members at his company in Florida and allowing them to see his operation up close. The list of converters who have visited Joel and benefited from spending time with him is long. He is well known for his candid and rare openness, and for being a gifted mentor and friend to any converter in need. Consolidated Label has become one of our industry's most-used synonyms for success, and I congratulate Joel for being awarded this well-deserved honor."
In addition to being named the Converter of the Year, Carmany's leadership of Consolidated Label has helped the printing company win the prestigious Eugene Singer Award for Management Excellence in the Large Company category for 16 consecutive years.
Check out this in-depth feature on Joel Carmany from packagePRINTING!
About Consolidated Label:
Consolidated Label is one of the country's leading suppliers of custom labels, shrink sleeves, and flexible packaging. The company prints custom label solutions for thousands of customers across a wide variety of industries including food, beverage, household, medical, pharmaceutical, and promotional products.