Consecutive Number Labels
Keep Track With Consecutive Number Labels
Consecutive number labels are perfect for keeping track of equipment, inventory, or other items to make your operations run smoother. Our consecutive number labels (also called serial number labels) are printed on digital presses. Depending on the complexity of your custom labels, your dedicated customer service rep can help you decide which label shape, size and combination of materials will work best for your project.
"Since I was under a time constraint, which is how a lot of my printing projects go, I really appreciated the quick responses I received."
~ April B., Quicklogic Corporation
More Reviews »
Digital's Variable Data Printing Technology
Consecutive numbering for barcodes can be any size or any number of digits. Digital presses' variable data printing technology allows you to start and end your consecutive numbering on any digit. If you plan on selling your products in retail stores, you will need to obtain a UPC barcode which has restrictions on size, color and appearance.
Durable Materials for Tough Applications
Consecutive number labels may need to stand up to some tough environmental conditions that are typical in the medical, mechanical, and automotive industries. To ensure your labels will last for an extended period of time, you should select durable label materials (like vinyl or polyester) with a laminate finish and/or UV coating. A laminate will help your consecutive number labels maintain their quality against heat, moisture, constant handling, etc. Let your customer service rep know where your labels will be used so we can give you the right materials.
Check out our durable label solutions or this guide on how to get started with weatherproof labels to learn more about different material options we offer.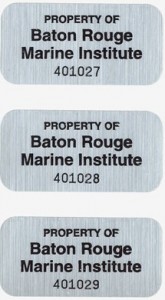 Call today to speak with a specialist about your unique project.
Or try our online instant pricing calculator.