Custom E-Liquid Labels
Custom Printed E-Liquid Labels
Over the last several years, electronic cigarettes (better known as e-cigs) have grown in popularity as many users consider it to be a healthier alternative to tobacco smoking since vapor is inhaled instead of smoke. With the rise of e-cigs, another market has emerged: e-liquid refills. Available in various flavors and with or without nicotine, e-liquid refills are a new type of product that we've seen requiring labels and packaging. Custom e-liquid labels are a great way to showcase a brand and highlight a vapor product's unique flavor. We carry a variety of materials so you can enhance the product's packaging and attract customers with stellar custom labels.
Download our white paper to see how to attract more customers by upgrading your custom labels!
Attention-Grabbing Vape Juice Labels
We can print custom e-liquid labels on many material types in order to achieve the exact look you want. Your labels always print with quality and durability in mind. This is because we understand how important attractive packaging is for selling products. Our flexographic and digital presses use a 4 color process to achieve consistent, full-color printing. We can print up to 12 colors as well as variations of any single color (i.e. spot colors), specialized inks, and durable finishes.
The FDA and E-Cigarettes
As of yet, only e-cigs that are marketed for therapeutic purposes are regulated by the FDA Center for Drug Evaluation and Research (CDER). The FDA Center for Tobacco Products (CTP) currently regulates the following tobacco-related products: cigarettes, cigarette tobacco, roll-your-own tobacco, and smokeless tobacco. Although there are no labeling regulations for e-liquids and vapor accessories, product owners should be aware that the FDA is keeping an eye on e-cig products. They are considering regulations due to concerns that e-cigs haven't been fully studied. To learn more about e-cigs and other public health issues, please visit the FDA's website.
Check out our blog posts on e-liquid labels and regulations so you can better prepare your next order.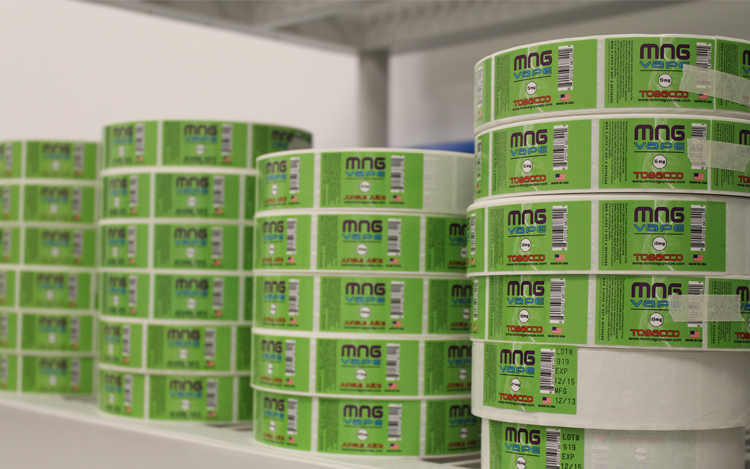 Further Reading
Call today to speak with a specialist about your unique project.
Or try our online instant pricing calculator.
Get Pricing