Variable Data Printing for Labels & Stickers
Digital Variable Data Labels
Thanks to digital printing capabilities, customers can have greater flexibility with their custom labels in a relatively affordable and quick manner. Variable data printing is available on digital label presses and used for printing serialized barcodes, consecutive number labels, and more.
Whether you have a labeling project with variable data or need personalized labels for a marketing campaign – digital printing is an efficient and effective solution. Check out this video to learn more.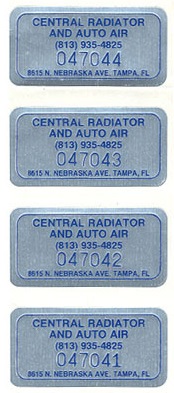 How Variable Data Printing For Custom Labels Works
Digital printing uses similar technology to personal inkjet printers. In short, these printers have dots of ink are used to recreate an image from a digital file. Using a computerized system, the operator can tell the press what pieces of variable data information are needed. Also, the servers on the digital label press store an extensive amount of information allowing customers more options and flexibility with their labels.
An important consideration before you submit your variable data to us is to make sure it's in a file format that works with our system. If you have a mail merge, list of barcode numbers, or some other type of variable data, you should use spreadsheet or database software to create your variable data file. That way, there are minimal chances of errors during press setup and print.
Examples:
Spreadsheet software – Microsoft Excel, AppleWorks, Google Docs
Database software – Microsoft Office Access, FileMaker, Oracle
Why Choose Digital Printing for Projects?
As previously mentioned, digital printing can give label customers more flexibility. However, this flexibility isn't as readily available through traditional label printing processes like flexographic.
Whether your labels have the same design with one or more types of variable data, digital printing can handle a variety of label projects. Listed here are some examples of how variable data printing is typically used so you can have a better idea of the label opportunities available.
Serialized barcodes
Consecutive number labels
Multiple languages
Scratch off labels
Direct marketing campaigns
Promotional labels with personalized images/text
Variations in color, image, text, etc. from one label to the next.
Labels for different brands
Country of origin labeling – typically used for meat and produce.
Date labeling (use by, sell by, best before, etc.)
It's important to note that there is a difference between labels with variable data and multiple design versions. Variable data printing is for labels that have the same layout and design throughout the entire run, but a section of the design left empty where the variable data prints. Also, labels with multiple versions or designs print from a digital file that pulls up each label's individual artwork. Variable data printing uses a digital file (for the design/layout) and a spreadsheet or database file. This is to input the variable data information onto the label.
Start on your labels with our instant online quote tool! For more information, please call 1-800-475-2235 or email sales@consolidatedlabel.com.
Further Reading
Call today to speak with a specialist about your unique project.
Or try our online instant pricing calculator.
Get Pricing