Problem:
A medical device manufacturer was looking for a way to reduce costs and improve packaging; their products were encapsulated in sleeves and had different colors for identification purposes. The big challenges were coming up with a label that would stick onto a very small tube without flagging, dispense at 1000 units per minute without the liner breaking, and develop packaging for a roll that was large enough to hold 30,000 labels. Additionally, the customer had very strict specifications on die cutting and slitting.
Flagging: A lifting or peeling away of a label that is wound on a spiral-wrap application.
Die: A tool or device used for cutting material to a desired shape and size.
Slitting: After printing on a large roll of label stock, the slitter rewinder cuts the labels into multiple narrower rolls.
Solution:
Sales rep Mike Sheffield worked with the medical device manufacturer to come up with a more cost-effective labeling solution that fit their needs. With Mike's help, the customer switched from color-coded sleeves to color-coded labels that would be applied to uncolored plastic tubes. Then to meet their specifications, we developed special die cutting and slitting methods for their custom labels.
Outcome:
The move to an uncolored plastic tube with a color-coded label offered tremendous cost savings. Not only did the customer achieve their goals, they had the added benefit of being able to print additional tracking information right on the label which reduced the need to print on the plastic tube.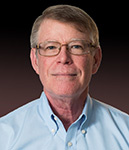 Need Labels, Shrink Sleeves, Packets, Flexible Packaging? Or just have a question?
Call, text, or email Mike Sheffield, our Central Florida representative at 407-620-4318 or mike@consolidatedlabel.com.