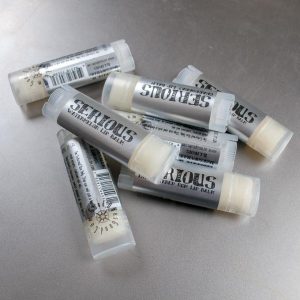 Serious Lip Balm started their all-natural lip balm business unintentionally three and a half years ago when Khara Koffel decided to make some lip balms as teachers gifts with the help of her friend Megan Luckey. It started as a simple gift but quickly evolved into selling at a local coffee shop and on Etsy, then later wholesale and vendor fairs. We're proud to have been their chosen label printer from the beginning, especially now with the launch of their campaign, 'Good Does Good.'
According to Serious Lip Balm:
"We have experienced some amazing success with our products and we want to use that success to help our community and world, so we are doing that with the launch of our new campaign, Good Does Good. To us, Good Does Good encompasses what we believe – that if you put good in the world, it continues to spread and multiply, making our communities and world a better place to live.
To start, we are going to be highlighting three amazing foundations that help the people of our community in the forms of offering employment, supporting families whose babies are in the NICU and provide books to underserved kids in our community over the summer."
Check out some organizations that have partnered with Serious Lip Balm to see how they're helping to spread some good around!