Why Choose Digital Printing For Custom Labels?
Digital printing produces vibrant high-quality labels that can be used for practically any product or project. Unlike flexographic presses that use polymer plates to transfer ink onto materials, digital presses use dots of ink to recreate an image from a digital file. The process is very similar to how your desktop printer works. If you're new to custom labels or considering making the switch from flexographic labels to digital labels, we've put together this guide to help you understand the advantages of digital printing for custom labels.
Quick Turnaround – Digital label printing doesn't require plates which means you don't have to pay for a printing plate for each color on the label. No plates also mean a shorter setup time so your labels are printed faster – and you receive your labels in less time.
High Quality – When it comes to product labels, high-quality graphics and colors grab the most attention. Our HP Indigo digital presses print at a resolution of almost double that of a traditional flexographic label so your labels end up with crisp, clear images and life-like colors.
Price – No plates and less press setup time means the costs for digital label printing are relatively low for short-run labels as compared to flexographic labels.
Short Run Labels Capability – This cost/benefit is maximized for small quantities of custom labels, also known as "short run labels." Another advantage of digital printing: you can order only the amount of labels you need right now, rather than ordering labels in bulk simply to get the best price.
Design Flexibility – In order to be competitive, you should regularly examine whether your design works for attracting your target audience. The cost of printing new label designs on a flexographic press can hurt your bottom line due to plate charges and setup fees. If you have multiple product label designs, costs can add up even quicker. With digital printing, there are no plate or setup fees, so we can start printing your labels sooner.
Using digital printing for custom labels is popular across many markets because it can print 500 or 5,000 custom labels with each individual label containing different information. This capability – known as variable data printing – opens up great new creative possibilities for customizing labels: you can add names from a database, consecutive numbers, multiple barcodes, or even print multiple versions of the same label!

How Flexographic Printing Compares
The price and quality of flexographic label printing have been (and still is to a certain extent) the go-to method for printing custom labels. Flexographic labels have the advantage for high volume product label orders, but there are setup costs for each label job – preparing your label artwork to create printing plates, setting up the label press, mixing inks for color matching, and machine calibration. The cost and setup for labels can be expensive if you're a smaller company or you just need fewer product labels – this is where digital printing has the advantage. For more information about flexographic printing, check out our in-depth article explaining this popular label printing technique.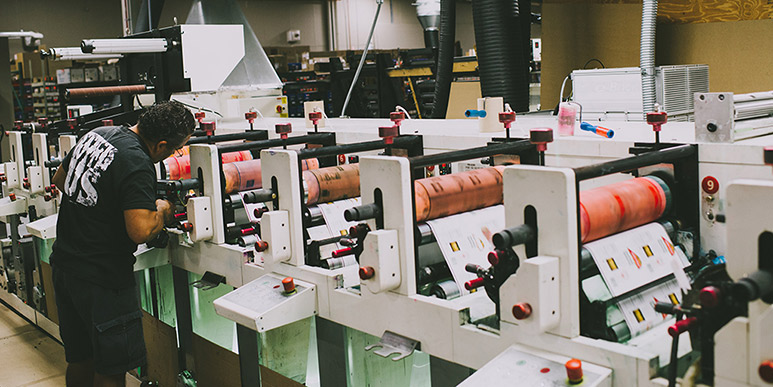 Editor's Note: This post was originally published in July 2010 and has been updated for accuracy and comprehensiveness.