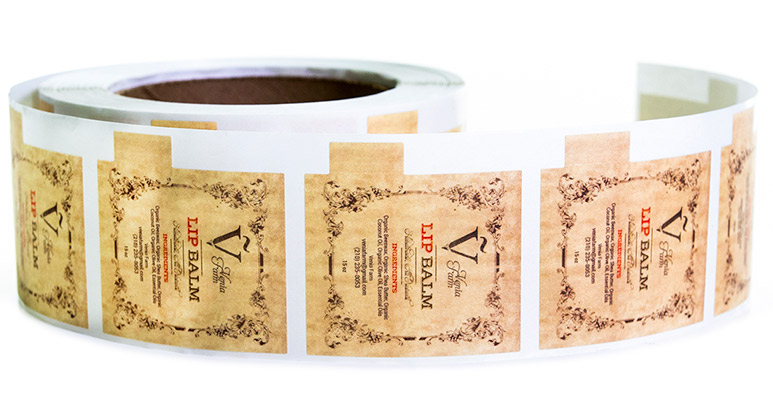 Lip balm tubes present a unique labeling challenge due to their size and product contents, but there are steps you can take to ensure your lip balm labels look good from first to last swipe. The materials you choose will make a big difference in how well your labels work when it's time to apply to your products and offer them for sale. Following these tips is your first step to custom lip balm labels that will fit around tubes and stay on the way you intended.
Labeling Considerations for Lip Balm Tubes
Narrow, cylindrical containers require certain label considerations because of their small diameter. If the right material, adhesive, or size isn't used, the label's edge can lift up (aka "flagging" in the label world) from the container because it can't keep a grip on the tube. Don't worry, we'll show you how to avoid that from happening to your custom lip balm labels, as well as other handy tips. Here are some things you should know before placing an order:
Facestock: Avoid rigid materials as they increase the likelihood of flagging since they're harder to bend. Flexible, lightweight papers and films are better able to conform to lip balm tubes.
Adhesive: Using a permanent adhesive will ensure the label will stay put regardless of handling, friction, and greasy product contents. If you're hand applying your lip balm labels, a repositionable adhesive may be a better option since it allows you time to remove and reposition the label shortly after application before achieving permanent adhesion.
Finish: There are different types of finishes to suit a variety of durability and packaging needs. Laminates offer the most durability but the film layer can add rigidity to a material depending on its thickness. Another option is to use a UV coating which adds protection without sacrificing material flexibility.
Design/Application: Increase your label's effectiveness by adding an edge overlap when designing your label. A slight overlap allows the label to stick to itself and have a better grip on the tube.
Seal (optional): If product security is a concern for you, we can cut your lip balm labels to include a security tab that let's customers know that the product hasn't been opened. Paper materials are better suited for security tabs than film since the seal is easier to break.
Having the right materials and label size is essential for creating a tight wrap around your lip balm tube. We offer a variety of materials that work for lip balm tubes so you can create the label look you want. If you have any concerns about how a material will work with your product, you can send us a sample container for us to test the material or we can send you a sample material to test it yourself – whichever you prefer.