Competition is fierce…to break through the noise consider custom holographic labels that grab attention with "moving" patterns and outstanding brightness! Holographic foil material will dramatically transform your product packaging, enhancing your already beautiful label artwork or giving your labels an extremely cool look to start from. Here's a quick look at how holographic labels are created and the many different types of holographic foils out there, making it easier to pinpoint the options that work for you.
How To Add Dimension…Holographically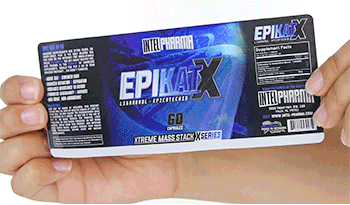 There are two ways to produce holographic labels: holographic stock or cold foil stamping. The first method is pretty straightforward – we print the label using entirely holographic pressure-sensitive stock (paper or film), exactly like how we print other custom labels. We have several holographic stocks that are ready to print allowing us to print your labels with fewer delays.
However, there are a few drawbacks to this method. For one, there aren't as many holographic options to choose from, and second, it's possible that there can be a "shim line" on the stock. A shim line is a fine seam that is created when making a holographic stock, but often the printed artwork can cover up a shim line making it virtually unnoticeable.
Another process for printing holographic labels is cold foil stamping. We apply the holographic foil onto a base stock (like white glossy paper or clear film), covering only the areas you specify. This gives you the option to use holographic material all over, in patterns, or to accent special graphics.
A benefit of cold foil is it offers more design opportunities, however, the process can increase your cost per label and may require extra lead time if we don't happen to have the particular foil you want in our inventory. Let's check out the variety of patterns available with holographic cold foil, and the things you can do with cold foil stamping to make your custom labels stand out.
Lots of Options with Holographic Cold Foil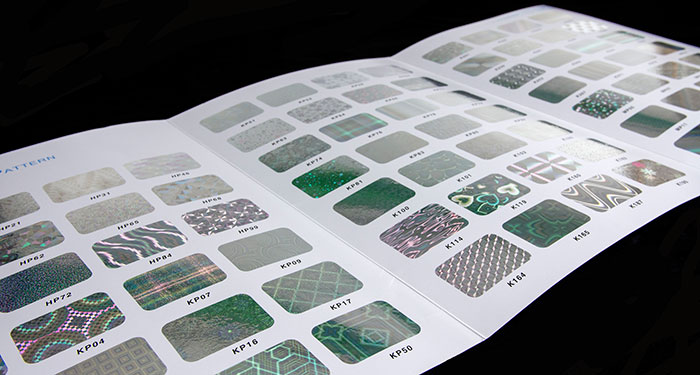 There are dozens (yes – dozens!) of holographic patterns to choose from when you go the cold foil route. Rainbow, glitter, stardust, cracked ice…the list of cool names goes on and on!
The options don't end once you've chosen a pattern, either. For example, some foils can be printed in reverse print where the holographic material is the background, and the text/graphics is the foreground. This works great for shrink or clear films. Other holographic cold foils can be transparent and the foil's transparency allows the colors and artwork underneath to show through. Opaque holographic foils can also be transformed – we can tint the foil to practically any color through our Pantone color matching system.
We can print holographic foil labels and stickers in a variety of shapes, sizes, and colors to create a unique finished product. Whatever you're labeling, holographic foil can make a lasting impression so your message sticks better in your target audiences' minds. We have a variety of holographic cold foils on hand and ready to go, but we can order more if you find another holographic pattern that best fits your label design. Contact our dedicated label experts to learn more about our holographic materials, and let's get started on your custom holographic labels.