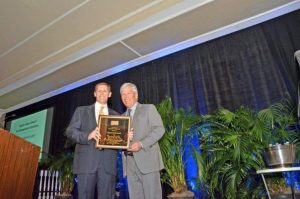 Every year, the Tag & Label Manufacturers Institute (TLMI) recognizes companies that demonstrate excellence in business management as measured by a set of growth and profitability ratios that are calculated as part of TLMI's annual Management Ratio Study. Named after the originator of the study, the Eugene Singer Awards for Management Excellence attract more than 90 entries from TLMI member converters throughout the United States and Canada. At the March 7 awards dinner, during TLMI's 2017 Converter Meeting, held in St. Pete Beach, Fla., the following companies received one of the industry's most coveted and prestigious honors.
Columbine Label Company, Centennial, Colo. – Small Company category.
Electronic Imaging Materials, Inc., Keene, N.H. – Mid-range Company category.
The Label Printers, Aurora, Ill. – Medium Company category.
Consolidated Label Co., Sanford, Fla. – Large Company category.
"TLMI's ratio study is a valued resource, used by members to benchmark their performance and fine-tune their operations and strategies," TLMI President Mark Tibbetts said. "The Eugene Singer Awards are an opportunity for members to distinguish themselves as the best of the best. Congratulations to this year's recipients."
Original Source: Package Printing