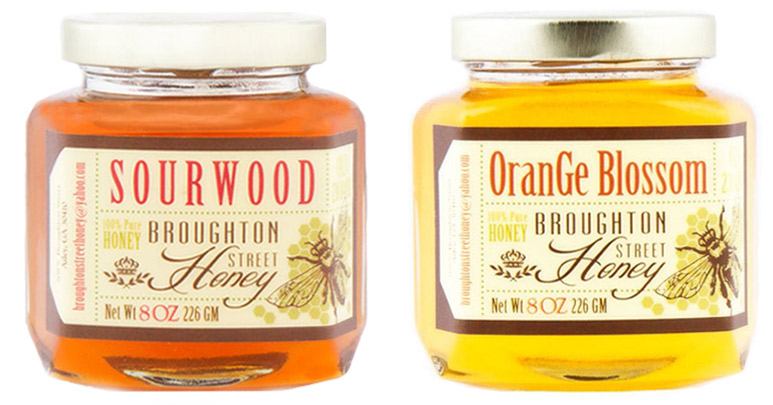 You may not be able to avoid sticky situations, but at least your custom honey labels can! Whether you're labeling a honey jar, soap bottle, or some other sticky product, using the right label materials for custom honey labels is essential for creating great looking labels that last through the product's lifespan. In this article, we'll explain the best label materials to use for sticky product contents so your honey labels and brand look their best from start to finish.
How Sticky Product Contents Can Ruin Labels
Before we get into materials, let's discuss the ways sticky product contents can affect label materials for custom honey labels.
Product contents seep in between layers of label material which causes paper labels to soak up the contents and deteriorate label quality.
The contents smudge the printed image on the label which can also cause inks to transfer from the label to whatever comes in contact with it (fingers, clothing, etc).
The container has some of the product on its surface prior to labeling and makes it harder for the label to stick to the container.
Now that you know the things that can go wrong when labeling products with sticky contents, read below to see which label materials will ensure your labels go right.
Label Materials For Custom Honey Labels
There are a variety of factors to consider when selecting the right label material for your labeling project such as design, budget, time constraints, and durability needs. We'll explain the pros and cons of popular label materials for custom honey labels used for sticky honey products to help you narrow down your choice.
When picking label materials for sticky honey products, we suggest going with film materials, adding a polypropylene laminate finish for extra protection, and possibly selecting a stronger adhesive if product contamination on the container is an issue. Container cleanliness is one of several factors that can affect adhesive performance. Adhesives work best on clean surfaces, but sometimes that's not always possible due to manufacturing processes. If some of the product will be on the container prior to label application, it's a good idea to use an aggressive adhesive to create a more durable bond between the label and container.
Whichever label you select, we're here ready to help. Get started on your custom honey labels today by using our online quote tool or contact our dedicated customer service team at 1-800-475-2235 or email sales@consolidatedlabel.com for more information.