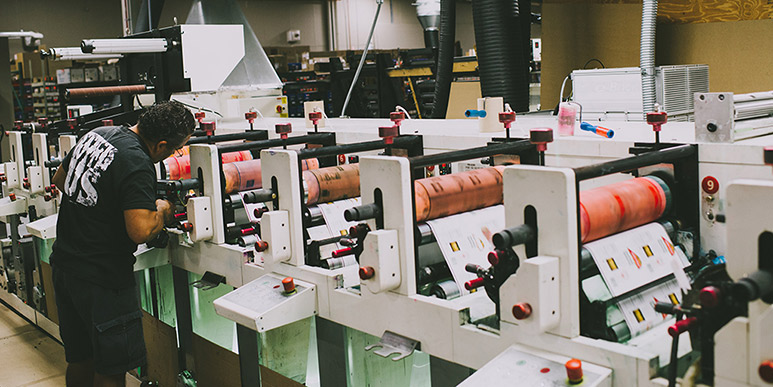 Label Printing Terms and Definitions
We've compiled a list of label definitions ranging from common to technical terms to help you better understand the complexities of custom label printing. For a more extensive list of label printing terminology, please click here.
4 Color Process: Printing process that uses a combination of the four standard inks: cyan, magenta, yellow, and 'key' black (CMYK) to produce full-color results.
Adhesive: A substance capable of holding materials together by surface attachment.
Absorption: In a paper, the property which causes it to intake liquids or vapors when in contact. In optics, the partial suppression of light through a transparent or translucent material.
Across x Around: How label dimensions are stated. If a label is three inches tall and wraps around the container by five inches, the label would by 3 x 5.
All Temp Adhesive: An adhesive that can be applied to frozen items or used in cold environments as low as -10 to -20 degrees F. Also called "cold temp."
Anilox Roll: A hard cylinder with individual depressions or wells in its surface that provides a measured amount of ink or coating to a flexographic printing plate.
Backing: An inexact term used in the pressure-sensitive adhesive industry. When referencing double-coated tapes and single coated products, it is the release liner. When referencing self-wound tapes, it is the material to which the adhesive is bonded.
Basis Weight: The weight of a ream of paper given in pounds per ream or grams per square meter.
Biaxally-Oriented Films: Films that have been extruded (stretched and pulled) in two directions to increase the film's durability and clarity.
Bleed: Printing that extends beyond the edge of where the label is sliced by the cutting die.
Blocking: Adhesion between sheets or rolls of pressure sensitive labels usually due to cold flow, improper drying of inks, or improper curing of coatings and adhesives.
Blockout Labels: Used to cover up printing mistakes, grammatical errors, outdated information, etc. thanks to their opaque barrier coating.
Bond Strength: The amount of force required to separate a pressure sensitive label from the application surface.
Butt Cut: Rectangle or square labels with 90-degree corners that are separated by a single slice cut. There's no gap between the labels on the liner and they can only be applied by hand.
Calender Rolls: A set or stack of horizontal cast-iron rolls at the end of the paper machine. The paper is passed between the rolls to increase the smoothness and gloss of its surface.
Coater: A machine composed of an unwind stand, coating devices, rollers, ovens and wind-up stand used to apply adhesive to the backing.
Coating: A material, usually liquid, used to form a covering film over a surface. Its function is to decorate and/or protect the surface from destructive agents or environment.
Cohesion: The internal strength of a pressure sensitive adhesive that determines its power of adhesion.
Cold Flow: The flow of a pressure sensitive adhesive under pressure or stress.
Cold Foil Stamping: An on-press application that transfers foil film onto a surface using printing plates and a UV curing lamp
Cold Temp Adhesive: See 'All Temp Adhesive.'
Converter: A company that specializes in combining raw materials such as polyesters, adhesives, silicone, adhesive tapes, foams, plastics, felts, rubbers, liners, and metals, as well as other materials, to create new products.
Core Size: The inside diameter of the (cardboard) core in a roll of labels.
Creep: The small slow movement of the adhesive caused by continuing stress due to low cohesive strength.
Crop Marks: Horizontal and vertical to show label outline/dimensions.
Cure: To change the properties of an adhesive or UV coating by a heat or light source.
Die: A tool or device used for cutting material to a desired shape and size.
Die Cut: The line of severance made on the pressure sensitive label material made by the cutting edge of a die.
Digital Printing: A method of printing where dots of ink are used to recreate an image from a digital file. Since plates aren't used in digital printing, setup costs are typically less than flexographic. Another advantage of digital label presses is variable data printing.
Dimensional Stability: The property of a material which relates to the degree of its growth or shrinkage under various environmental conditions.
Direct Thermal: A specialized printing technology using rapidly heated pins that selectively activate a heat sensitive coating applied to the facestock thus forming the desired image.
Doctor Blade: A steel strip used to remove ink from the outside surface of the gravure cylinder. See 'Gravure Printing.'
Dot: The individual element of a halftone.
DPI (Dots Per Inch): A measure referring to dot resolution in images created by printers and imprinters.
Edge Lift: The tendency of the edge of a label to rise off the surface of the substrate.
Edge Ooze: Uneven adhesive residue around label perimeter.
Emboss/Embossing: A condition in which an image is pressed into a material to create an image that is raised above the normal level of the material. Debossing creates the opposite effect.
Emulsion Adhesive: A dispersion of fine particles or globules in another liquid. Many pressure sensitive adhesives are emulsion systems.
Exposure Temperature: The temperature that a labeled product is exposed to.
Extrude: To expel or force through a measured orifice to apply a molten thermoplastic adhesive onto a web.
Facestock: Any material, including paper, film, fabric, laminated, or solid foil suitable for converting into PS label stock.
Fanfold: Labels on a continuous backing (aka 'release liner') that have been perforated to allow the labels to be folded back and forth along the perforations to create a flat, compressed form.
Films: Facestocks and laminates manufactured from synthetic high molecular weight polymers. Films are usually water, heat, and chemical resistant. Ex: polyester, polyethylene, polypropylene, vinyl.
Finish: The surface property of a paper or film determined by its texture and gloss. A gloss finish, for example, can be shiny and highly reflective, while a matte finish is generally dull and reflects little light.
Flagging: A lifting or peeling away of a label that is wound on a spiral-wrap application. See 'Edge Lift.'
Flexography: A method of rotary letterpress printing that uses flexible rubber plates with raised images and fast-drying inks.
Food Contact Adhesives: Adhesives meeting specified sections of the Food & Drug Administration Code of Federal Regulations. These regulations cover direct food labeling as well as incidental contact. Special product recommendations are necessary for specific applications.
FSC: Forest Stewardship Council. An independent, non-profit organization that promotes responsible forest management and verifies that wood-based products, like recyclable label stock, come from sustainably managed forests.
Gapping: A type of deformation wherein any two layers become separated from each other causing an opening.
Gloss: A shiny finish on a smooth surface.
Grain: The machine direction of paper as opposed to the cross direction. Also, a measurement of pressure-sensitive adhesive on a given area.
Gravure Printing: Short for 'rotogravure,' a printing process that employs minute engraved wells. Deeply etched wells carry more ink than a raised surface, hence print darker value shallow wells are used to print values. A doctor blade wipes excess ink from the cylindrical printing surface.
Halftone: A continuous tone image that has been scanned and converted into tiny dots that vary in size to create a variation in tone. Light areas have small dots and the darker areas have larger dots. This is how printing various shades of grey is possible with black ink.
Hang Tag: Fold-over labels with no adhesive that are typically used for product identification, promotions, pricing, directions, etc. They "hang" on products in retail marketplaces.
Heat Activated: To soften a dried thermo-plastic adhesive film to a sticky stage by application of heat. After bringing the adhesive to its melting point, the process of bonding can then take place.
Heat Resistance: Property of a material which inhibits the occurrence of physical or chemical changes caused by exposure to high temperatures.
High-Temperature Adhesive: An adhesive that will enable a pressure-sensitive label to adhere or stick well when applied to a hot substrate and has a high degree of resistance to aging or deterioration at elevated temperatures.
Holographic Label: A specialty label that is printed on holographic stock or by 'cold stamping' holographic foil onto labels.
Hologram Label: A three-dimensional image formed by the interference of light beams from a laser or other intense light source. Often used interchangeably, a hologram is not the same as holographic. (Please note that we do not offer hologram label printing at this time.)
Hot Melt: A pressure sensitive adhesive applied to the liner or backing in a hot molten form which cools to form a conventional pressure-sensitive adhesive.
Inhibitor: A substance which slows down chemical reaction. Inhibitors are sometimes used in certain adhesives to prolong its life or storage.
Initial Tack: The immediate holding power of the label adhesive on contact with a specific surface. Adhesives with a low initial tack are easier to remove and build up adhesion over time, whereas adhesives with high initial tack have a stronger adhesion and bond to the application surface more quickly.
Ink Fountain: In printing presses, the device which stores and supplies ink to the inking rollers.
Ink Jet: A method of printing using liquid ink projected a drop at a time against a substrate.
Instron: Test instrument used to determine tensile and adhesion values.
ISO: The International Organization for Standardization is an international standard-setting body that develops voluntary international standards for quality management.
Kiss-Cut: Kiss-cutting refers to a die cutting method where the die cuts through the laminated material and adhesive and stops before rupturing the liner. In this process, the waste matrix is often removed.
Knife Coating: A method of adhesive coating. It essentially consists of a rigid adjustable blade mounted above a roll. The adhesive is pumped behind the blade so it is pulled under the blade.
Kraft: An unbleached natural paper.
Label: The functional portion of a pressure-sensitive construction comprising the face sheet and adhesive, die cut into various shapes.
Lacquer: A solution or suspension of one or more materials in volatile solvents capable of forming a protective and or decorative film or a film with special surface properties, after the solvents have evaporated.
Laminate: A web material formed by bonding two or more materials together. Laminates are a popular type of film finish that adds protection and durability to labels.
Laser Printing: A non-impact electrophotographic process utilizing a laser beam to scan the surface of the drum creating a latent image which attracts toner. The toner is then transfer fused into the print surface.
Layflat: A label material with good non-curling characteristics that make it suitable for a flat sheet.
Letterpress Printing: Printing process in which ink is applied to a surface from portions of rigid printing plates or type.
Lifting: Refers to the condition when a tape, on its own accord comes away from the surface to which it was applied.
Liner Side: In roll form, it is referred to that side of the roll protected by the release liner.
Magenta: One of the four primary colors for printing. One of the subtractive primaries the hue of which is used for one of the four color process inks. It reflects blue and red light and absorbs light.
Mandrel Hold: The ability to adhere to a curved or tight radius surface. Mandrel hold is the resistance to "flag" or "wing up".
Matrix: Ladder, skeleton, waste. The face and adhesive layers of a sensitive construction surrounding a die-cut label which has been removed after die-cutting.
Matte Finish: A dull finish. A deglossed surface.
Memory: The property of a material that attempts to return to its original dimensions after being distorted.
Metalized Film: A plastic or resinous film that has been coated on one side with a very thin layer of metal.
Migration: The movement of one or more of the components of a pressure-sensitive adhesive to either a substrate or face material; the movement of one or more of the components of either or both the face material and the substrate into the adhesive and ink.
Mils: Used in describing adhesive coat weights, thickness. The term means thousandths of an inch.
Minimum Application Temperature: The lowest temperature at which an adhesive will function.
Multi-Layer Label: Dual-layer laminated panels that are attached by a hinge to a pressure sensitive label. With no adhesive residue, the resealable top panel of the multi-layer label can peel back cleanly to reveal copy printed on the back of the top panel and on the base.
Natural Colored: Applied to papers whose colors result from the nature of the stock used when no bleach or coloring has been added. In the case of kraft, its natural color is a tan or light brown.
Natural Resins: The products obtained from the exudations of trees and sometimes used as adhesive, coatings or sealer bases. Common natural resins are the copals, damar, shellac accroides, sandarac, rosin, and mastic.
Non-Oriented Film: Film which has not been subject to stress to align the polymer chains and improve properties.
OD: Stands for the "outside diameter" of a cylinder, core, roller or roll of labels.
Offset: Set-off. A defect characterized by the partial transference of ink from a freshly printed surface to an adjacent surface as that of another sheet of paper.
Offset Printing: A printing technique in which the inked image is transferred (or "offset") from a plate to a rubber blanket or roller, then to the printing surface.
Oozing: A "squeezing out" of the adhesive from under the backing, occurring when the tape is in roll form, the edges of the roll become tacky.
Opacity: That property of a paper or film which prevents "show through" of dark printing on or in contact with the backside of the sheet. This is the opposite of transparency.
Orientation: The alignment of the crystalline structure in polymeric materials so as to produce a highly uniform structure. Can be accomplished by cold drawing or stretching during fabrication.
Overlaminating: Application of clear film to a graphic for the purpose of protection or to enhance the graphic's quality.
Overlap: Wrap-around labeling of a container in which one end of the label overlaps the other.
Oxidation: The chemical reaction involving the process of combining with oxygen to form an oxide; the deterioration of an adhesive film due to atmospheric exposure; the breakdown of a hot melt adhesive due to prolonged heating and oxide formation.
Pallet: A portable platform device onto which paper can be loaded for storage and/or transporting.
Paper: A homogeneous formation of primarily cellulose fibers which are formed in water suspension on the machine wire and bound together by the weaving of the fibers and by bonding agents.
PCW: Post Consumer Waste
Peel Adhesion: Adhesion strength. Peel adhesion is the force required to move a pressure-sensitive label from a standard test panel at a specified angle and speed after the label has been applied to the test panel under specified conditions.
Penetration: Bleed through. Change of appearance of the face material due to movement of one or more components from the adhesive or the substrate.
Perforation: Series of small cuts made in labels and/or their release liner to facilitate tearing along a predetermined line.
Permanent Adhesive: An adhesive characterized by having relatively high ultimate adhesion to a wide variety of surfaces.
Piggyback Label: A specialty label that is comprised of two labels – the bottom label stays adhered to a substrate, and the top label can be peeled off and re-applied elsewhere. Also known as two-layer and double-layer labels.
PMS: Pantone Matching System (PMS), a proprietary color system used in a variety of industries, primarily printing, though sometimes in the manufacture of colored paint, fabric and plastics.
Pigment: In printing inks, the fine solid particles used to give color, body or opacity.
PLA: Polylactic acid. A biodegradable thermoplastic polymer made from renewable resources like corn starch or sugar cane. PLA film exhibits many properties that are equal or better than many petroleum-based plastics, making it suitable for a variety of applications.
Plate Cylinder: The cylinder of a press on which the plate is mounted.
Polyester: Abbreviated as PET. A strong film having good resistance to moisture, solvents, oils and many other chemicals. It is usually transparent.
Polyethylene: Abbreviated as PE. An extruded, tough, stretchy film with limited temperature resistance but good moisture barrier properties.
Polymer: A complex, relatively large molecule produced by the reaction of a simpler compound with itself. Usually refers to synthesized organic resins, but may also refer to natural materials, such as starch, sugar, cellulose, and natural rubber.
Polypropylene: Abbreviated as PP. A polyolefin plastic similar in properties to polyethylene but with higher temperature capability and greater strength.
Pressure Sensitive Label: A self-adhesive label that is the die cut, usable part of pressure sensitive material that has been converted through roll-fed production equipment. The end product can be produced in rolls, sheets, or fan-folded stacks.
Print Resolution: The quality of print; the level of detail achieved by a printer. Measured in dpi (dots per inch).
Proof: Sent by a printer to a customer to show what will be printed. Most proofs nowadays are sent electronically but hard copies can be requested. 'Press proofs' are printed using the actual printing process that a job will be produced with.
QR Code Label: 'Quick response' codes are square graphics on labels that can be scanned with a mobile phone app which can launch a website, send a text message, enter into a sweepstake, download a file, and more.
Rate of Set: The time required for an adhesive, under a specific set of conditions, to arrive at a fiber tearing bond.
Recycled Label: The label stock contains materials recycled from the manufacturing process or post-consumer waste.
Recyclable Label: The label can safely go through the recycling process. (Please note that most sensitive labels cannot be recycled due to the adhesive unless they use a "recycling compatible adhesive" which are a specialty product.)
Renewable Label: The label stock comes from resources which can be replenished as quickly as they're used. Examples of renewable materials include corn, sugar cane, and bamboo.
Register: The exact corresponding placement of successively printed and/or successively die-cut pressure-sensitive labels.
Release: The force required to remove the release liner from the facestock at a specified speed and angle.
Release Coat: Release lacquer. The release liner treatment material that allows pressure-sensitive labels to release from the release liner.
Release Liner: Backing. Liner lining. The portion of the label that receives the release coating. Prior to application, it protects the adhesive and provides support for the facestock during the die cutting operation and allows the label to be transported to a label applicator or through a computer printer.
Removable Adhesive: A pressure-sensitive adhesive characterized by low ultimate adhesion to a wide variety of surfaces, that can be removed without damage to either the label or the substrate.
Repositionable Adhesive: An acrylic-based "all temperature adhesive" that has short-term removability so labels can be repositioned or reapplied to another item before achieving permanent adhesion.
Residue: Adhesive left on a substrate when a label is removed.
Rewind Slit: A slitting process where a roll of tape is unwound and run through a set of shear or score knives to be slit and then wound up into individual rolls.
Rewinder: A machine which takes rolls from the winder, slits or rewinds into smaller rolls.
Rewinding: The operation of winding the paper from the reel onto a core to produce rolls of the desired width, diameter, and tension.
Rotary Press: A printing press using plates formed to fit rolls and using paper in continuous rolls. Newspapers use rotary presses.
Rubber Base Adhesive: A pressure-sensitive adhesive based on natural or synthetic rubbers.
Screen Printing: A method of printing in which the ink is forced through the image area of a properly stretched fabric, by the use of a squeegee, or in some cases air pressure directly onto the substrate to be printed.
Self-Wound: A roll material with a single liner which is coated on both sides with a release lacquer and a carrier having a pressure-sensitive adhesive on both sides.
Semi-Gloss: A lightweight, coated paper that offers a balance of economy and performance.
Service Temperature: The temperature range that a PS label will withstand after a 24 hour residence time on the substrate. The range is expressed in degrees Fahrenheit.
Set: The interval of time required for adhesive bonding; relative bonding speed of an adhesive material.
Set-Off: In presswork, when the ink of a printed sheet rubs off or marks the next sheet as it is being delivered. Also called offset.
Shear Adhesion: The time required, under a specified test condition, to slide a standard area of the pressure-sensitive label from a standard flat surface in a direction parallel to the surface.
Shear Strength: Internal or cohesive strength of the adhesive.
Sheeting: Process whereby rolls of PS base stock are converted into sheets of finished labels by cutting them to the desired length in the sheeting stations on a rotary press.
Shelf-Life: Storage life. The period of time during which a product can be stored under specified conditions and still remain suitable for use.
Short Run: Small batches of labels typically printed on digital presses. Short run labels range from 100 – 10,000 labels. For quantities over 10,000, it's more cost-effective to print labels on a flexographic press.
Shrink Sleeve Label: Commonly known as "shrink sleeves," these full-body labels are applied to containers by shrinking them with a heat, steam, or hybrid tunnel.
Shrink Wrapping: A technique of packaging in which the strains in a plastic film are released by raising the temperature of the film thus causing it to shrink over the package.
Slitting: After printing on a large roll of label stock, the slitter rewinder consolidates the labels into multiple narrower rolls. A roll of material is transported from an inline rewinder to an offline slitter rewinder. The roll is then unwound and slit into narrower webs of label material. These webs are subsequently rewound as individual ribbons, which are narrower than the parent roll.
Splice: A method of joining paper or plastic webs within a pressure sensitive roll to produce an operational continuous web. They can be placed on an incoming raw material roll by a supplier, or added in the rewind inspection process by a label converter.
Substrate: 1) The surface to which a pressure sensitive label or shrink sleeve is applied to. 2) The primary material which other materials (such as inks, coatings, laminates) are applied.
Tack: The property of a pressure-sensitive label which causes it to adhere to a surface instantly with a minimum of pressure and contact time as measured by TLM Tester or equivalent equipment.
Tack Range: The time during which an adhesive film remains tacky.
Tamper Proof Label: A pressure-sensitive construction made with a face material having a low strength so that attempted removal of a label made from this stock will usually result in the destruction of the label.
Tear Strength: The force required to tear a specimen under standardized conditions in an instrument designed to simulate in a general way the tearing encountered under use conditions.
Tensile Strength: The force parallel to the plane of the specimen required to break a given width and length of paper under specified conditions.
Thermal: Adjective describing the effects of temperature or heat, e.g. thermal effects.
Thermal Transfer: A thermal printing process using a temperature sensitive ribbon that through heat and pressure is selectively transferred to a printable surface thus creating the desired image. The ink is transferred from the ribbon to the print surface thus the term "thermal transfer."
TLMI: Tag and Label Manufacturers' Institute. A trade organization of the pressure sensitive label industry.
Toner: Imaging material used in electrophotography. In inks, the dye used to tone printing inks, especially black.
Top Coat: A substance coated onto a label material that will enhance the printing or the appearance of the finished label. For example, some films are top coated to ensure better ink anchorage to the surface of the material.
Ultimate Adhesion: The maximum adhesion available from a pressure-sensitive adhesive, determined by the force necessary to remove a strip of tape from a surface after an extended period of time.
Ultimate Strength: Term used to describe the maximum unit stress a material will withstand when subjected to an applied load in a compression, tension, or shear.
Ultra-Violet (UV): Zone of invisible radiations beyond the violet end of the spectrum of visible radiation.
Ultra-Violet Letterpress: An abbreviation describing the process whereby ultra-violet curable inks are printed via the rotary letterpress process.
Ultra-Violet Resistance (UV): The ability of a material to withstand extended exposure to sunlight (ultra-violet) without degradation, hardening or excessive discoloration.
Unbleached: A term applied to paper or pulp which has not been treated with bleaching agents.
UV: Ultra Violet light. UV is an important factor to consider when choosing an adhesive. UV can degrade some adhesives with extended exposure.
Varnish: Over-lacquer. A solution or suspension of one or more materials forming a protective or decorative film by oxidation, polymerization, or evaporation.
Variable Data Printing: A capability of digital label presses. Using a computerized system, the operator can tell the press what pieces of variable data information – like images, text, numbers, or colors – should be printed.
Vinyl or PVC: Polyvinyl Chloride. A tough durable plastic film having excellent resistance to oils, chemicals, and many solvents. It has excellent abrasion-resistance.
Viscosity: In printing inks, a broad term encompassing the properties of tack and flow.
Waterproof/Water Resistant: Relative terms applied to labels that can resist moisture for an extended period of time.
Weatherability: The capability of a pressure-sensitive label to withstand the effects of weather.
Weatherproof/Weather Resistant: Relative terms applied to labels that can resist weather-related conditions (water, wind, temperature, sun exposure, etc.) for an extended period of time.
Web: A continuous sheet of pliable manufactured material.
Web Tension: The amount of pull or tension applied in the direction of travel of a web of paper by the action of a web-fed press.
Wet Strength: The tensile strength of paper after it's wetted. It measures how well the web of fibers holding the paper together can resist a force of rupture when the paper is wet.
Wicking: Tendency of a liquid to travel through a paper.
Wind Direction: The direction that labels are oriented when coming off a roll.
Winder: Equipment located at the dry end of the paper machine to take the web from the reel, trim off the edges, wind into firm rolls and slit into several rolls if desired.
With the Grain: Folding or feeding paper into a press parallel to the grain of the paper.
Wrap-Around Label: Label that extends completely around a container.
Wrinkle: Distortion in the material represented by creases which interrupt the continuous, smooth nature of the web. Wrinkles can be encountered running in any direction on the web.
Yellowing: Defect manifested by a gradual color change in the original appearance of a pressure-sensitive label characterized by the development of yellowish and brownish hues.