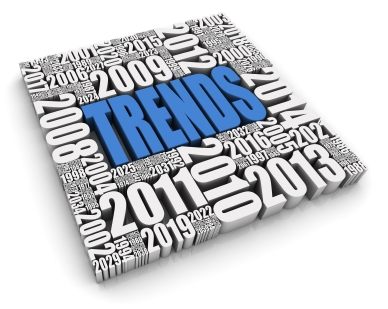 Top Trends for 2013
We have recently released a list of custom label trends for 2013.  In this release, we discuss the top trends consumers should expect this year. The trends below will provide insight into consumer behavior as well as offer advice to brand owners on new products and technology that are emerging in the marketplace.
Increase in shrink sleeve production – Shrink sleeve is one of the fastest growing packaging methods for bottles because the shelf impact is higher due to 360-degree graphics from top to bottom of the bottle. It is also a case where if competition moves their package to shrink then there are others in the same space who move as well to remain competitive from a packaging standpoint. This happened often in 2012 and will continue into 2013.
Continue segmentation of product lines – Segmentation continues to march through markets as the way for manufacturers and brand owners to differentiate themselves and target more specific areas. Digital printing has allowed more economical production of smaller volumes associated with segmentation of markets. As an example, a candle manufacturer might order 5,000 each of 50 different scent labels. A coffee retailer would do the same with flavors. This is happening across many markets as choices expand for the consumer.
Breaking down larger packaging sizes into individual serving sizes – Manufacturers are breaking down larger packaging sizes into individual servings to make it easier for the consumer to purchase smaller amounts of various products. This allows higher margins for the product manufacturers. This is definitely a reversal of the theme that bigger is better.
Higher quality graphics and shelf appeal – Retailers are looking for packaging that pops. Brighter colors and sharper graphics are more important than ever as standards for printers continue to rise. It is a battleground on the shelf for appeal and brand awareness. This makes color consistency and packaging quality from run to run more important than ever. Metallic backgrounds and highlights on labels provide that extra packaging appeal that helps move the product. We will continue to see more use of foil on labels than ever before.
Digital printing continues to make an impact – Digital printing continues rapid expansion in the label and packaging market aimed at smaller runs and faster turnaround. This is making for very satisfied customers and more economical label prices for the consumer. The quality is outstanding and the effort to get workable art files is certainly less because everything is printed in four color process. These advantages are passed on to the consumer and everybody wins.