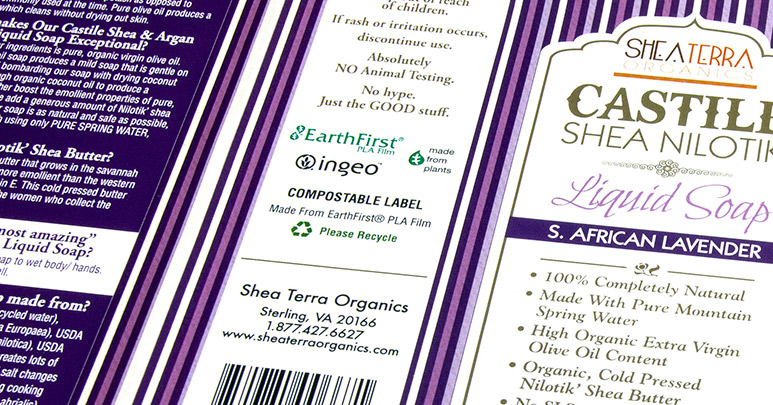 Lots of businesses talk about "going green" but that's often easier said than done. One way to move towards more sustainable practices is to switch to eco-friendly labels. There are a variety of eco-friendly label materials to suit different looks, applications, and markets. Consolidated Label Co. may not have access to every type listed and there are often minimum purchase requirements when using these specialty materials. Your service rep will be able to tell you if these types of materials are available and if they are a fit for your project.
Terms to Know with Eco-Friendly Label Printing
Before we jump into materials, there are several terms you should know so you can better understand the differences between label types.
Recycled: The label stock contains materials recycled from the manufacturing process or post-consumer waste.
Renewable: The label stock comes from resources that replenish as quickly as they're used. Examples of renewable materials include corn, sugar cane, and bamboo.
Recyclable: The label can safely go through the recycling process. (Please note that most pressure-sensitive label adhesives cannot go through recycling unless the label has a "recycling compatible adhesive" – a specialty adhesive that is currently only available for paper-to-paper applications.)
FSC Certified: The Forest Stewardship Council (FSC) is a non-profit organization that promotes responsible management of the world's forests. According to its website, "FSC certification ensures that products come from responsibly managed forests that provide environmental, social and economic benefits."
Tree-free label stock: A white paper-like stock made from bamboo pulp, sugar cane, and cotton linters. Tree-free label stock provides a smooth print surface and is ideal for specialty food and wine labels.
As you can see, all eco-friendly labels aren't the same. Having an idea ahead of time what you would like your custom labels to accomplish is important. This will make it easier for us to help you get what you want. Below are examples of materials that we offer and which work best for certain applications.
Materials Options to Consider
When you get custom labels, there are two main types of materials you can choose from – paper or film. In general, paper is a cost-effective material that works for a variety of markets. Film, on the other hand, is more durable than paper and has a premium appearance but tends to have a higher cost per label.
Here are some examples of popular materials to help you get a better idea of what's available.
FSC certified semi-gloss and matte papers: A lightweight paper with enhanced opacity and brightness that comes glossy or uncoated. It offers a balance of economy and performance, and applies to stainless steel, treated HDPE, polypropylene, recycled cardboard, and glass.
FSC certified direct thermal paper: A smooth, bright white paper with a high sensitivity thermal coating. Direct thermal paper, often used by grocers to print food information for meat products or frozen items, is also great for shipping, receipt, and barcode labels. This material features excellent resistance to 24-hour water immersion, blood, fats, oils, plasticizers, alcohol, solvents, and vinegar.
FSC certified vellum paper: Also known as "estate label paper," this paper is available in bright white or cream and it's ideal for wine, high-end beverages, and gourmet foods due to its premium look and feel. The material has good initial tack and ultimate adhesion, which means that it sticks to the surface quickly and builds a strong bond. The adhesive is permanent, however, it can become removable in minimum 100° F water.
Please note that online quoting does not work using our quote tool. For information on pricing, please contact us during business hours. If you're not sure which material to use or looking for something different, we are happy to discuss your options.
What About Ink?
We use water-based and UV curable inks. This is because they offer great print quality and are less harmful to the environment than solvent inks. Our most popular option is water-based inks as they are less expensive and work on a variety of materials. UV inks are a more specialized type of ink that cures by an ultraviolet lamp, turning them from a liquid into solid (curing is much faster than air drying). UV inks offer easier press setups and reduce energy consumption since they dry nearly instantaneously. The quick, drying time produces sharper colors, however, UV inks tend to cost more than other ink types.
Sustainability isn't only good for the planet…it's also good for business. Consumers are becoming more concerned about their impact on the environment which includes the products they buy and what they're packaged in. Eco-friendly labels and packaging can help make your product more marketable and improve your brand's image with eco-conscious consumers. Start on your custom eco-friendly labels today, call 1-800-475-2235 or email sales@consolidatedlabel.com today.