From grocery stores to farmers markets to cafés, food label symbols are everywhere but do you know what they really mean? In this glossary, we'll explain some of the most popular food symbols to make it easier to decode labels. If you're a food manufacturer looking for labels, head over to our instant online quote to get started on your custom food labels!
Food Label Symbols Manufacturers And Consumers Should Know
Symbols on food labels can tell customers different things like how the product was grown or processed, if it's been certified by a third party regulatory agency, ingredients, allergens, and more. Not only do symbols provide information, but they also differentiate products from competitor brands which can attract niche customers. Listed below are food label symbols you can find in the marketplace.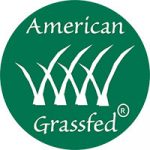 American Grassfed: The American Grassfed Association (AGA) offers the first and only all-American grass-fed certification in the United States. The AGA certifies beef, bison, dairy, lamb, and goat. Other animals, like chicken and pigs can be pasture-raised (and USDA organic standards require at least some access to pasture), but there are currently no specific certification standards for non-ruminant animals being grass-fed or pastured. The AGA logo on a product shows that the animals were raised on a diet of 100% forage, allowed to roam open pasture with no feedlot confinement, never given antibiotics or hormones, and come from American family farms. The certification standards apply to all farms and ranches approved by AGA for the production of ruminant animals and products. Only farms and ranches certified to AGA standards may use AGA's logo, trademark, service mark and/or design mark. Their standards are verified by an independent, third-party, on-farm yearly audit.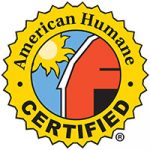 American Humane Certified: The American Humane Association
is the first independent, third-party certification program to verify the humane treatment of farm animals. The American Humane Association believes people should be able to follow their food preference and find humanely raised dairy, meat, and egg products that are both safe and affordable. The American Humane Certified™ program verifies that producers' care and handling of farm animals meet the science-based animal welfare standards of the American Humane Association. These guidelines ensure: livestock have access to clean and sufficient food and water; a safe, healthy living environment; and staff and managers are thoroughly trained to care for animals in a humane manner.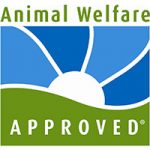 Animal Welfare Approved: Started in 2006, Animal Welfare Approved (AWA) is a division of the non-profit organization Animal Welfare Institute. Animal Welfare Approved is the first seal to guarantee that humanely labeled products do not come from agribusiness-owned operations that raise some of their animals under cruel conditions. Its standards cover the way its participating farms raise their animals (including beef and dairy cattle, bison, sheep, goats, pigs, chickens, turkeys, ducks, geese, and rabbits). The basic premise of AWA standards is that animals must be able to behave naturally and be in a state of physical and psychological well-being. They only certify family farms (charging no fees to participating farmers) and state that animals must be raised on pasture or range.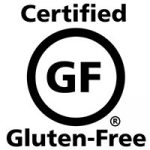 Certified Gluten-Free: Established in 2005, the Gluten-Free Certification Organization
(GFCO), an industry program of the Gluten Intolerance Group (GIG), provides certification services to producers of gluten-free products using quality assessment and control measures throughout production, in order to provide assurance to consumers of the safety of their foods. The nonprofit helps people with celiac disease and other gluten-related disorders live healthy lives. GFCO combines the process of stringent desk audits of ingredients and suppliers with regular on-site inspections and monitoring of testing results to ensure standards are met. The Gluten-Free logo is an internationally recognized certification symbol for meeting strict gluten-free standards. GFCO is one of the leading gluten-free certification programs in the world.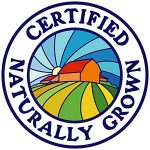 Certified Naturally Grown: A non-profit alternative certification program tailored for small-scale, direct-market farmers using natural methods. Certified Naturally Grown (CNG) offers peer-review certification to farmers and beekeepers producing food for their local communities by working in harmony with nature, without relying on synthetic chemicals or GMOs. Some farmers have criticized the cost and process they need to go through to participate in the USDA's organic program so CNG provides an alternative. The Certified Naturally Grown™ also label indicates that a product is, in fact, natural rather than just using the word "natural" for marketing purposes.
Certified Pesticide Residue Free: SCS Global Services (formerly Scientific Certification Systems, Inc.) is a leader in third-party environmental, sustainability, and food quality certification, auditing, testing, and standards development. Its Certified Pesticide Residue Free seal means that the food has been tested for pesticide residues and that residues were below levels specified in its standards. Certification guarantees that a product falls below the maximum residue limits (MRLs) for every export market.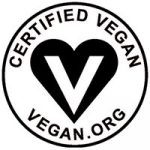 Certified Vegan: The Certified Vegan™ logo is used on products that don't contain animal products or byproducts (including silk or dyes from insects and animal-derived GMOs or genes) and haven't been tested on animals. The certified logo helps consumers shop for vegan products without constantly consulting ingredient lists. In order for a product to be approved for Vegan Certification, it must not contain meat, fish, fowl, animal by-products, eggs or egg products, milk or milk products, honey or honey bee products, insects or products from insects such as silk or dyes, or sugar filtered with bone char. Products must not have or will involve animal testing of ingredients or finished products by the supplier, producer, manufacturer, or independent party.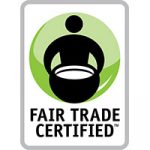 Fair Trade: Certified products must be produced in accordance with the following fair trade guidelines: workers must receive fair wages, safe and equitable working conditions, and the right to join trade unions; child or forced labor is completely prohibited; crops must be grown, produced, and processed in a manner that supports social, economic, and environmental development. These standards are enforced by the Fairtrade Labeling Organizations International (FLO) (in the U.S. by Fair Trade USA). Fair trade standards have been established for coffee, tea, cocoa, honey, bananas, juices, cotton, flowers, gold, rice, spices and herbs, sports balls, wine, composite products, fresh fruit, and sugar.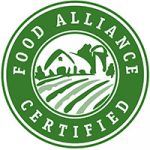 Food Alliance Certified: Food Alliance started as a project of Oregon State University, Washington State University, and the Washington State Department of Agriculture, and was incorporated as an independent non-profit organization in 1997. It certifies agricultural operations, food processors, and distributors that ensure:
Safe and fair working conditions.
The health and humane treatment of farm animals.
Reduced risk from pesticides and other toxic or hazardous materials.
Protection and enhancement of wildlife habitat and biodiversity.
Conservation of soil, water, and energy, and reduction and recycling of waste.
Transparent and traceable supply chains.
Food product integrity, with no genetically engineered or artificial ingredients.
Continual improvement of management practices.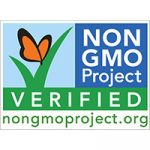 Non-GMO Project Verified: The Non-GMO Project is a non-profit organization that provides the only third-party labeling program in North America for products grown without using genetic engineering. They verify that the process a product goes through, from seed to shelf, is produced according to the Non-GMO Project Standard, a consensus-based document from industry experts. To receive the label, a product has to be certified as containing ingredients with less than 1% genetic modification.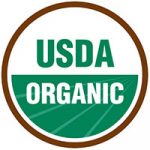 Organic: The U.S. Department of Agriculture's (USDA) National Organic Program regulates labeling requirements for organic crops, livestock, processed products, and wild crops. The organic seal can only be used on the principal display panel of a label if the product is 100% organic or if the product's ingredients have less than 5% of non-organic content. The product must also identify organic ingredients on the label. Certified organic products must also include the name of their certifying agent on the label's information panel.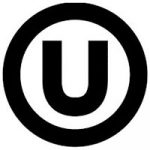 OU Kosher: The OU (Orthodox Union) Kosher is the world's largest and most widely recognized kosher certification agency, certifying over 800,000 products produced in more than 9,011 plants located in 104 countries around the world. Foods can't be certified kosher if they include certain animals, fowl and fish (such as pork and rabbit, eagle and owl, catfish and sturgeon), most insects, and any shellfish or reptile. In addition, kosher species of meat and fowl must be slaughtered in a prescribed manner, and meat and dairy products may not be manufactured or consumed together.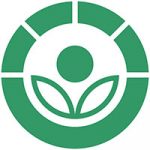 Radura Symbol: Since 1986, the U.S. Food and Drug Administration (FDA) has required that any food treated by irradiation – a widely practiced use of radiation to preserve food, kill pests, and delay ripening – must be marked with the international Radura symbol. Irradiation in the U.S. is allowed on some products to avoid common problems with germs or insects, like wheat flour, dried herbs and spices, frozen red meat, and pork. The Radura symbol, however, doesn't mean that the meat or herbs are now radioactive. That's a common misconception that has led to the symbol being seen as a warning flag; irradiated foods are perfectly healthy. It also doesn't have to be applied to processed foods that have been irradiated along the way.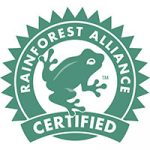 Rainforest Alliance Certified: The Rainforest Alliance is an international non-profit organization dedicated to conserving biodiversity and ensuring sustainable livelihoods. The Rainforest Alliance Certified
seal assures consumers that the product they are purchasing has been grown and harvested using environmentally and socially responsible practices. Farms and forestlands that meet the third-party standards of the Sustainable Agriculture Network or the Forest Stewardship Council are awarded the seal. Food label symbols cover a gamut of issues from growing practices and environmental sustainability, to labor conditions and animal treatment. Many of these certifications are recent creations due to consumer concerns about what they're putting into their body and how it affects the world around them. Although consumers are becoming more discerning when it comes to food, manufacturers will have to weigh the benefits of getting a certification for their business. Of course, this is sorted out before you will need food labels, but whenever you're ready, we're here to help you move forward with your label printing needs. (For more information on FDA food labeling regulations, please check out our articles and guides.)