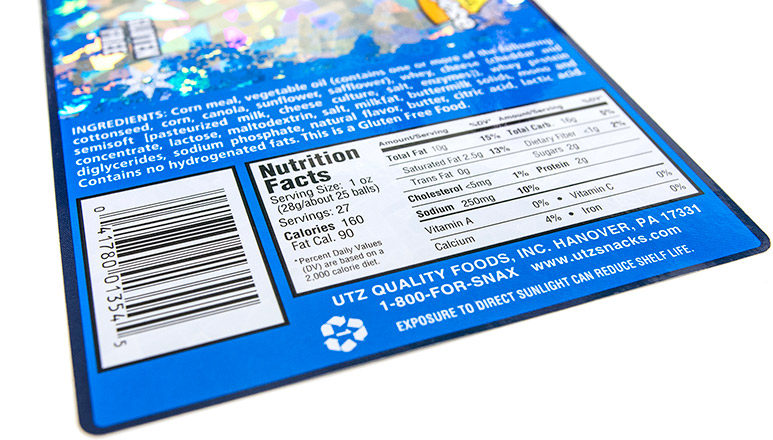 Grocery stores are packed with packaged food products but despite their differences, they usually have one thing in common – a Nutrition Facts label. Getting one for your product may seem like a daunting task (especially if you don't know where to start) but we can point you in the right direction. In this guide, we'll explain how to get nutritional information, applicable regulations, and other important considerations to achieve successful food labels.
Step 1: Get Nutrition Information
There are a couple ways you can determine the nutrition content of your food product: nutritional database or lab testing. See how these two methods stack up to help determine which will work better for your needs.
Nutritional Databases
Perfect for the do-it-yourself type, nutritional databases allow you to enter a particular ingredient and serving size to find out specific nutrition facts. They can host information on thousands of foods and ingredients and be searchable by food item, group, or description. They may even contain a complete analysis of common ingredients. One downside is that some items are unable to be analyzed.
Examples of nutritional database services:
Lab Testing
The benefit of food testing labs is they can calculate accurate nutrition facts using their extensive database and food science technology. Their resources allow them to provide information based on the nutrition facts of each ingredient and the percentage used in your recipe. If your product is fried, coated, or salted, you'll more than likely need to get your nutritional information determined by a lab due to the product's complexity. Since food testing labs must follow strict procedures set by the Food and Drug Administration (FDA), the process can be time consuming and expensive.
Examples of laboratories that specialize in food analysis:
Step 2: Play By FDA Rules
The FDA requires nutrition labeling to see what ingredients and allergens are in your food product, however, it doesn't test the nutrition of every food product and submitting your nutritional statements is completely voluntary. What is required is that the label shows accurate nutritional facts and the information is presented in the FDA panel format.
Food manufacturers have sole responsibility for ensuring that the Nutrition Facts and food claims displayed are valid and comply with FDA regulations. Although it's unlikely the FDA will take regulatory action for minor errors, it's in your best interest to have labels with accurate nutritional statements to avoid product recalls and negative publicity.
When In Doubt, Consult An Expert
If you're uncertain about something, don't want to risk a recall, or lack the time to create a Nutrition Facts label, you may want to consider hiring an FDA-approved label consultant. An FDA label consultant will ensure you're providing the most accurate information on your product labels.
Examples of food label consultants:
Step 3: Design & Print the Label
Once you have the information you need, the next step is to design and print the food label. Hiring a professional designer with experience in food labels not only helps ensure the label artwork looks great, but is suitable for high quality printing. If hiring a label designer isn't in your budget, you can always do it yourself. Our sister company, Online Labels, has a free nutrition label generator where you can input your information and choose from three different layouts: vertical basic, vertical detailed, or horizontal.
Getting nutritional information can be a lengthy process depending on the complexity of the food product but getting labels doesn't have to be. After you've incorporated the Nutrition Facts table into your label design, all you need to do is send us your artwork file, label requirements, and order details. The easiest way to get started on your custom food labels is to use our online quote tool or call us during business hours.