Picture this: you're excitedly launching a new product and need labels to go on them but you're unsure whether you should hire a label printing company or print the labels yourself – what do you do? It's a situation that a lot of new and growing businesses face and there isn't a clear cut answer because it will depend on your situation. See the pros and cons of hiring a label printing and printing your own labels to help you decide which one is right for you.

Pros and Cons of Hiring A Label Printing Company
Hiring a professional will give you greater peace of mind that your labels will look and work great. We've had many customers who started out printing their own labels and then switched to us to print their labels because they're looking for a higher quality or can't keep up with demand. See the reasons why you should and shouldn't get your labels professionally printed.
Benefits of outsourcing your label printing:
Higher quality of materials and printing
More options
More cost-effective for higher quantities
Frees you or your staff to do other things
Extra sets of eyes to catch and fix errors
Expert opinions and guidance
However, there are instances when hiring a label printing company can have some drawbacks such as:
Slightly longer lead times
Less control of the process
In general, if you need more than 100 labels or have special requirements like an exact color match or custom shape, we recommend outsourcing your label printing to a professional. Next, see why printing your own labels can be a good (or bad) idea.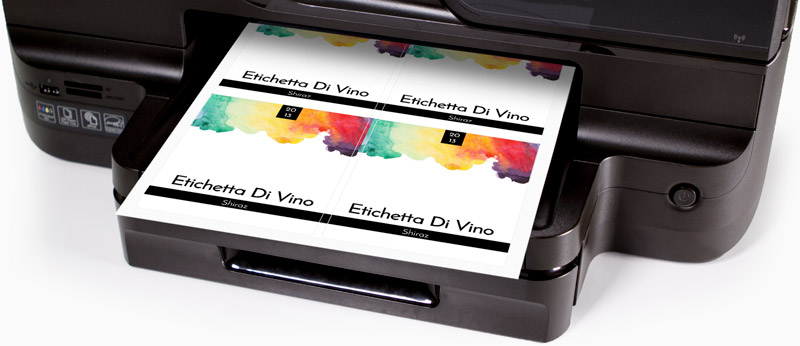 Pros and Cons of Printing Your Own Labels
DIY labels are a popular option for people who are getting into labels for the first time, especially if they don't have much of a budget. Flexibility, cost, and speed are the biggest upsides to printing your own labels but there are more limitations with this option.
Benefits of printing your own labels:
Can be less expensive for small batches
More control of the overall process
More flexibility to print labels as-needed
A feeling of accomplishment
Drawbacks of DIY labels:
Inferior or inconsistent print quality
Limited materials and options that are compatible with your printer
When mistakes happen, you're responsible
More likely for errors to occur
Desktop printers can't print white ink so the text and graphics on clear labels won't be opaque
Creating water-resistant or weather-resistant labels are challenging and require special materials
Can't have top coatings or laminates when printing with your printer
Getting the labels aligned perfectly can be challenging
You've probably heard of the saying or a variation of, "If you want something done well, do it yourself." However, if you don't have the right tools, knowledge, and experience, you'll probably end up with worse results than if you had hired a professional (which brings this quote to mind – "If you think it's expensive to hire a professional to do the job, wait until you hire an amateur"). If your label design is simple and you don't need that many labels, then printing your own labels is certainly a good option, but if you're trying to market a product, hiring a well-established label printing company will help elevate the look of your product with higher quality labels.
We print custom labels for a variety of markets and would be happy to help you. Get started today with an instant online quote, and if you need assistance, please call us at 1-800-475-2235 or email sales@consolidatedlabel.com.