Tired of applying custom labels by hand?
Hand applying labels is an easy and affordable way to label small batches of product; however, that method can become inefficient if your production is expanding beyond your labeling capabilities. If you find that hand application is no longer a practical labeling method, then the next step you can take is investing in some labeling equipment. Before you start searching online or calling up suppliers, it's helpful to learn the different types of label application machines to help narrow your search and make an informed buying decision. Below is a quick reference guide to labeling equipment you can use while shopping around.
NOTE: We do not sell label equipment. Below is a reference guide to assist you with buying label equipment that best suits your business.
Types of Standard Equipment
As you start researching, you will find that many brands have different categories and subcategories of label application machines due to price, container abilities, speeds, configurations and much more. Your desired labeling speed and what you are labeling will dictate which type of labeling equipment you should get. Some suppliers can even customize a machine to your specifications depending on your labeling needs. Below are some basic descriptions of the most common types of labeling equipment ranging from low to high volume labeling.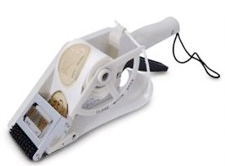 Handheld label applicator
Portable and easy to use, most handheld label applicators (also called dispensers) can accommodate several size configurations to address varying label shapes and widths. Square products and boxes are the easiest to label when using a handheld applicator. The cost for a handheld applicator typically start in the low to mid hundred dollar range depending on its range of label shapes and sizes it can dispense.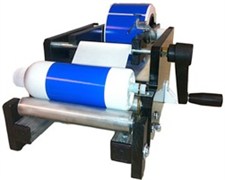 Manual label applicator
A hand operated label applicator is a cost-effective solution for somebody looking to move beyond hand application but doesn't want to spend thousands of dollars on labeling equipment. The manual applicator to the right can apply up to 1000 labels an hour on round bottles from 1.5" to 5" in diameter. Low set up time and minimal training are just a couple of the benefits of manually operated labeling machines.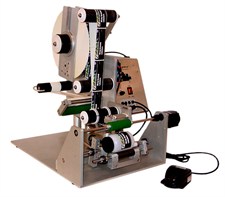 Semi-automatic label applicator
Activated by a foot or hand switch, semi-automatic labeling machines are considered the next step up from hand operated. Semi-automatic machines are compact and range in capabilities from different container types to front and back labeling. Investing in a semi-automatic labeling machine can pay for itself as it speeds up labeling capabilities to match production output.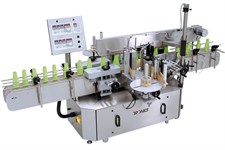 In-line automatic labeling
Rapid expansion may require your operations to skip hand operated and semi-automatic machines for equipment that can do high volume output.  In-line automatic machines are more of an investment, however, they better packaging consistency and production times. Labeling large amounts with in-line automatic equipment also produces at a lower labor cost per unit than semi-automatic.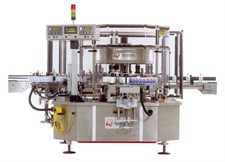 Rotary labeling
Best for high speed labeling or 24/7 production, rotary labeling machines (also called rotary labeling systems) are the priciest and biggest yet offer superb label control at high velocities. Rotary machines are also highly customizable to fit inside an operational plant. They can also run at fast speeds of over 500 units a minute.
Labeling equipment typically runs at 100 units per minute, however, businesses with smaller labeling quantities would probably find it more cost effective to outsource or hand apply. Some bottle manufacturers can label for an up charge if buying labeling equipment isn't yet feasible. In contrast, production lines would be significantly more efficient having some type of labeling equipment if thousands of units run each day. Now that you have a better understanding of labeling equipment, next you can learn five tips for buying labeling equipment.