The Food and Drug Administration (FDA) has a new Nutrition Facts label for packaged food and beverage products to reflect new scientific information and help consumers make better-informed choices. The redesign is a result of feedback and analysis of FDA research, industry input, and available scientific data. On September 29, 2017, the FDA released a proposed rule to extend the compliance dates for the Nutrition Facts and Supplement Facts label final rule and the Serving Size final rule to Jan. 1, 2020 (originally was July 26, 2018) for manufacturers with $10 million or more in annual food sales. Manufacturers with less than $10 million in annual food sales would receive an extra year to comply—until Jan. 1, 2021. (small businesses can get a nutrition labeling exemption if they qualify).
Whether you're a manufacturer who will need to update their labels or a consumer who reads the Nutrition Facts, these new requirements are worth getting to know. Let's get started!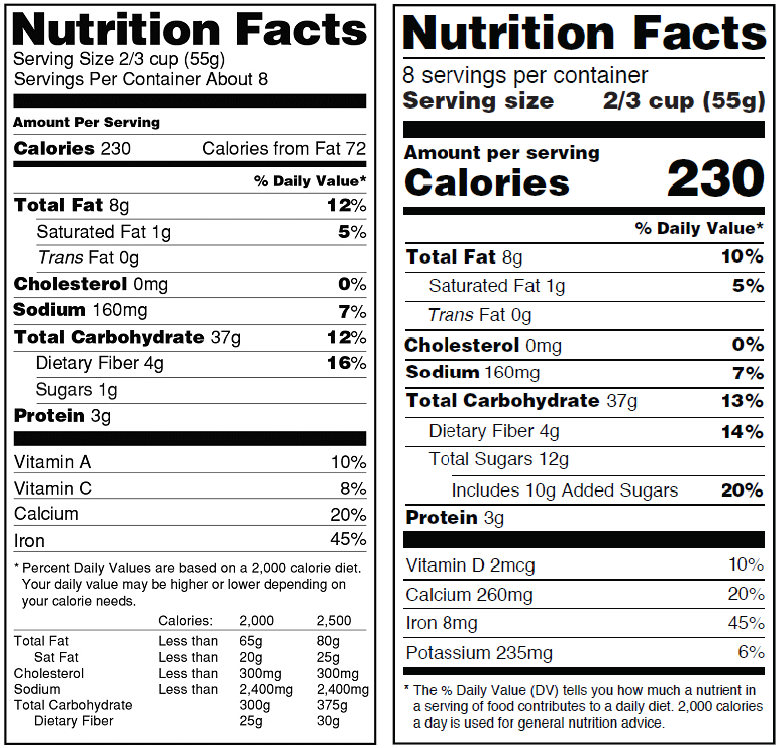 Old vs New Label – What's Different?
While much of the new label's look isn't drastically different from the old label, the information and layout have been revamped. According to the FDA's announcement, the most notable differences between the old and new label include:
Increasing the type size for "Calories," "servings per container," and the "Serving size" declaration, and bolding the number of calories and the "Serving size" declaration to highlight this information.
Requiring manufacturers to declare the actual amount, in addition to percent Daily Value of vitamin D, calcium, iron, and potassium. (They can voluntarily declare the gram amount for other vitamins and minerals.)
Changing the footnote to better explain what percent Daily Value means. It will read: "*The % Daily Value tells you how much a nutrient in a serving of food contributes to a daily diet. 2,000 calories a day is used for general nutrition advice."
Adding the "Added Sugars" declaration directly beneath the listing for "Total Sugars."
Removing "Calories from Fat" because research shows the type of fat is more important than the amount.
Serving sizes must be based on amounts of foods and beverages that people are actually eating, not what they should be eating.
Now that you have a better understanding of the new label, let's discuss some labeling strategies you can use to meet these label requirements without causing major disruptions to your business.
Label Tips for Manufacturers
Updating your labels can be a pain but with some planning, it can be a much easier process. Below are some suggestions to help you get started on your path to FDA label compliance:
Mask old info with cover-up labels: Also known as "block out labels," this unique label material allows you the ability to completely cover up the old Nutrition Facts while continuing to use the last of your label inventory.
Embrace a new label look: Updating labels with the new Nutrition Facts can be the perfect opportunity to evaluate your current label design and try something new or make improvements.
Although the FDA's new requirements won't be effective for at least several more years (depending on its final decision), it's important to start thinking about updating your labels sooner rather than later so you're not scrambling when the time comes. Whatever your label needs, we can help you find a solution that works best for your product and business. Contact us today to learn how to get started!
Editor's Note: This post was originally published on May 26, 2016, and has been updated for accuracy and comprehensiveness.