A common issue that arises for businesses that need (or want) to give consumers a lot of information is that there just isn't enough space on the label to do so. Nowadays, consumers are savvier about the products they buy and are paying closer attention to labels as a result. Multi-layer labels are a great solution because they allow a company to include additional information that customers want without adding much bulk to the product's packaging. Other names that multi-layer labels go by are multiple layer labels, hinge labels, expanded content labels and reseal labels.
What is a Multi-Layer Label?
A multi-layer label is two labels on top of one another. Like opening a book, the bottom layer stays adhered to the product while the top ply peels back to a "pinch point." By using a multi-layer label to provide additional information, consumers are more likely to respond positively to a brand's transparency than vague or limited information.
Multi-layer labels tend to cost more than regular labels but could pay off for your business in the long run. Your business or project can save time and resources with multi-layer labels for several reasons. If your product is sold in different countries, it becomes more expensive and time-consuming to design and make labels in each language. A multi-layer label that includes all of the different languages (or other additional information) simplifies the logistics of shipping to multiple markets because the company doesn't have to track which labels get sent where since all the labels are uniform.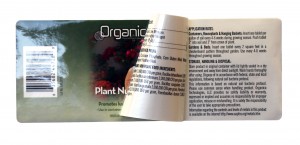 5 Ways to Use Multi-Layer Labels
With ever changing FDA regulations and new market trends, the use of multi-layer labels continues to grow in popularity for legal and marketing purposes. Some companies only solution for FDA compliance is to use multi-layer labels but not every industry is required by law to display their product's nutritional, medical and instructional statements on its label. Below are some cost-effective ways multi-layer labels can help your business make more meaningful connections with customers and add more value to your product.
1. Add a Recipe
Whether a customer has been buying your product for years or it's the first time, people are busy and like it when their life is made easier – even in a small way. Putting a recipe on a multi-layer label not only helps the customer discover new ways to use your product but it also keeps your brand in the customer's mind much longer. Your product's container might be thrown away after it's done, but a tasty recipe on an easy to peel label can find a home on the customer's refrigerator or recipe book.
2. Display Multiple Languages
More and more business transactions are taking place online making companies more global now than ever. Even if your company isn't expanding into international markets, using multi-layer labels for multiple languages will help your product connect with consumers that aren't native English speakers. The U.S. has always been a melting pot of cultures and the increasing number of ethnic food stores and products show that the trend isn't slowing down.
3. Connect with Your Customer
A multi-layer label can do more than just provide information; it can help a brand connect with consumers on a more personal level. You can use a multi-layer label to share with customers the story of your product, how the company was founded, the company's mission and values – basically anything that lets a customer learn more about the product and company. Multi-layer labels also are cost-effective for small products because a company won't have to increase expenditures on larger packaging and labels as a way to include additional information. The diversity and flexibility of multi-layer labels will allow your company to give more amounts of information that is relevant and useful to your target audiences, while adding intrinsic value to your product and brand.
4. Promote an Event
There are many ways to promote sweepstakes, giveaway or contest – radio and TV ads, social media, word-of-mouth, press releases…the cross-promotion list can go on. A multi-layer label inherently gives a customer an interactive experience with the brand because it requires the customer to do something – peeling off the label. Using a multi-layer label for event promotion is helpful towards building a complete marketing strategy. A well-known example of using multi-layer labels for event promotion is McDonald's Monopoly game. Their use of multi-layer labels shows how it can be a powerful tool for getting customers actively involved with a particular brand.
5. Offer a Coupon
With popular TV shows like TLC's Extreme Couponing and A&E's Barter Kings, consumers in the U.S. are obsessed with the concept of 'getting a good deal.' Even high end fashion designers are cashing in on the trend by making less expensive read-to-wear lines for major retailers. A multi-layer label with an instant redeemable coupon, special deal (like buy one get one free) or rebate is a great way to attract new and previous customers to try a new product, buy more of the product or increase awareness about the product.