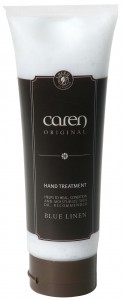 Did you know applying a finish to your custom labels can better maintain its quality? In fact, laminates and varnishes can improve the integrity of labels by protecting them from environmental elements like humidity, moisture, heat, etc. You can also create certain looks with finishes to make your labels more appealing. In this article, we're going to break down some of the most popular laminates and varnishes so you can have an easier time picking a finish that preserves your labels and makes them look good.
Overview of Label Finishes
Applying a laminate or varnish to your labels is one of the final steps in converting label materials into finished products. The difference between the two is that laminates are made of film whereas varnishes are liquids. Laminate is generally used for applications where the surface will see more abrasion, chemical/alcohol contents or outdoor exposure.
Not every label needs a finish, however, many do. Labeled products can encounter various issues like constant handling, varying temperatures, friction, etc. You can better protect your labels from factors outside of your control by picking a laminate or varnish that works with your labeled product's environment.
Finishes can offer your custom labels:
Label artwork protection
Different looks and label effects
Withstand outdoor or indoor environments
Durability for longer lasting labels
The Benefits of Laminates and Varnishes
Consumers nowadays are inundated with product offerings making it harder for companies to distinguish its brand and attract customers. Finishes not only can help product owners protect their branding, it can also help enhance it. Below is a list of popular finishes and a brief description of their applications:
Gloss Finish – Popular in a variety of markets, gloss laminates and UV coatings work great to protect a label's inks from rubbing off or smearing. Gloss is recommended for many indoor applications as outdoor environments can cause fading to the label.
Matte Finish – Available as a laminate or UV coating, matte finishes offer a more subtle effect to your labels with a flat, soft look and feel. Like gloss, matte is recommended for indoor applications and protects a label's ink from coming off.
Outdoor Lamination – Labels that will be mostly outside should have a durable finish like outdoor polyester laminate because it will assure the labels won't crack, yellow or peel for several years.
Spot UV Coating – Sections of your labels can be applied with a spot UV coating to better protect aesthetic effects like accent colors, foils, textures, etc. Spot UV coatings can also be used as an additional inventory control by allowing the customer to add dates and product information coding to label areas where there's no coating.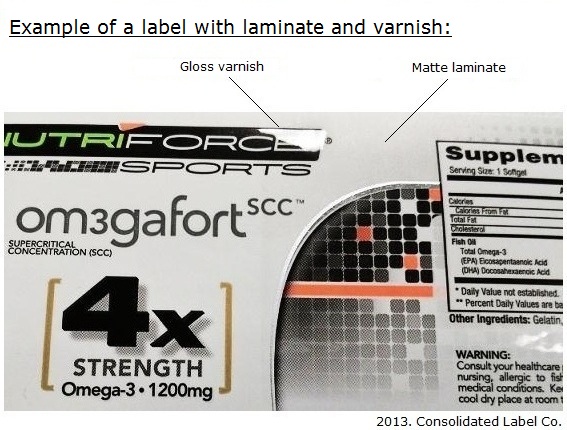 We typically suggest using a finish because it can help boost the label's overall quality. The important thing to remember when you start considering finishes is the product's contents and environments. Once you have a good idea of what your labels will encounter and how you want them to look, your choice of laminates and/or varnishes should be narrowed down for an easier decision.