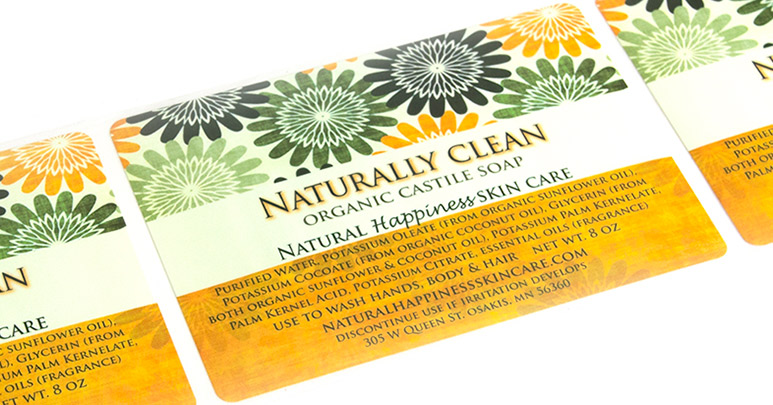 Selling soaps in the United States can be a little confusing since they can have different regulations depending on how they're intended to be used and their ingredients. Not only can regulations be tricky to understand for new or growing soap makers, but choosing the right materials and design for their custom soap labels can also be stressful. That's why we've created a guide to help soap makers better understand federal regulations so when it's time to order labels, they can move forward with confidence.
First, Know What Regulations to Follow
Before getting labels, it's important to know whether your soap product is regulated by the Food and Drug Administration (FDA) or the Consumer Product Safety Commission (CPSC). Both are federal agencies that regulate products to protect the public, but which products they regulate is what distinguishes them. Food, pharmaceutical drugs, cosmetics, and tobacco products fall under the FDA's jurisdiction, whereas the CPSC regulates other types of consumer goods like toys, sporting goods, clothing, household cleaning chemicals, and many other items.
Soap, however, is a special category. That's because the regulatory definition of "soap" is different from the way in which people commonly use the word. According to the FDA's website, the term "soap" only applies when:
The bulk of the nonvolatile matter in the product consists of an alkali salt of fatty acids and the product's detergent properties are due to the alkali-fatty acid compounds, and
the product is labeled, sold, and represented solely as soap [21 CFR 701.20].
Products that meet this definition of soap are regulated by the CPSC, not by FDA. Questions about these products, such as safety and labeling requirements, should be addressed with the CPSC. If a product intended to cleanse the human body doesn't meet all of the criteria for soap, as listed above, it's considered a cosmetic or drug, and thereby regulated by the FDA. For example:
If a product
consists of detergents, or
primarily of alkali salts of fatty acids, and
is intended not only for cleansing but also for other cosmetic uses,
it is regulated as a cosmetic. Examples of cosmetic uses include making the user more attractive, by acting as a deodorant, imparting fragrance to the user, or moisturizing the skin.
If a product
consists of detergents, or
primarily of alkali salts of fatty acids, and
is intended not only for cleansing but also to cure, treat, or prevent disease, or to affect the structure or any function of the human body,
it is regulated as a drug, or possibly both a drug and a cosmetic. Examples include antibacterial cleansers and cleansers that are also intended to treat acne.
If a product
is intended solely for cleansing the human body,
has the characteristics consumers generally associate with soap, and
does not consist primarily of alkali salts of fatty acids,
it may be identified in labeling as soap, but it is regulated as a cosmetic.
With these definitions, you should be able to tell whether your product is legally defined as a soap, cosmetic, and/or drug. Under the Federal Drug and Cosmetic Act, cosmetic products and ingredients (with the exception of color additives) do not require FDA approval before they go on the market. Drugs, however, must receive premarket approval by the FDA. Furthermore, cosmetics and drugs must be labeled according to their respective regulations, and if the product is considered a drug and cosmetic, they must have both types of labeling. For more information on cosmetics and drugs, please visit the FDA's webpage on laws and regulations.
Now, the fun part…soap labels!
Once you've determined what type of product you have and follow the appropriate regulations, the next step is to get custom labels for your soap. In Soap Labels Guide Part 2: Materials & Design, we explore material and design options to help you create an eye-catching product look that attracts customers and boosts your brand's image.