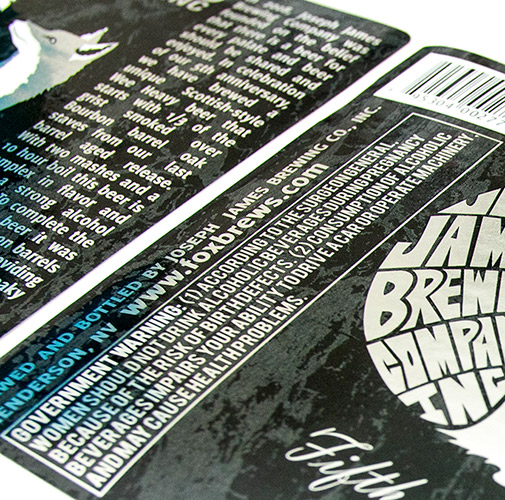 The Alcohol and Tobacco Tax and Trade Bureau (better known as the "TTB") is the federal agency that oversees beer labeling regulations and approves beer packaging. The TTB specifies what you can and can't put on your beer labels which include the label artwork, text size, what verbiage can be included, where to place certain elements, etc. Navigating these beer labeling regulations can be challenging for new breweries which is why we created this guide to break them down. Although we can't help get your beer labels approved, we would be happy to print them for you once they are.
Beverage Alcohol Manual »
Malt Beverage Definition »
Mandatory Label Information »
Label Application Forms & COLA Onlnine »
Non-Compliance Issues: ABSP and ABLA »
The Voluntary Disclosure Initiative »
Label Approval Processing Times »
TTB's Beverage Alcohol Manual
The Beverage Alcohol Manual (BAM) provides basic mandatory labeling information for malt beverages and is divided into five chapters:
Let's take a closer look at what is considered a malt beverage and the mandatory label information required for malt beverages.
Malt Beverage Definition
In chapter 4, malt beverages are defined as alcohol or alcohol-free beverages made by the alcoholic fermentation of an infusion or decoction, or combination of both, in potable brewing water, of:
malted barley comprising not less than 25% by weight of the total weight of fermentable ingredients
hops (or their parts or products) in an amount equivalent to 7.5 pounds per 100 barrels (3100 gallons) of finished malt beverage
AND, with or without:
other malted cereals
unmalted or prepared cereals
other carbohydrates (or products prepared therefrom)
carbon dioxide
other wholesome products suitable for human food consumption
Malt beverages are divided by class and then further classified by type. For example, "ale" is considered a class and "amber ale" is a type. BAM's chapter 4 provides a table listing malt beverage classes, types, and which are considered "sufficient as class and type designation" (which basically means that listing that particular class or type is enough). Your beer label will need to list the class and type along with the following information.
Mandatory Label Information
Brewers must follow the beer labeling and advertising requirements found at 27 CFR Part 7, Labeling and Advertising of Malt Beverages at 27 CFR Part 16, and Alcoholic Beverage Health Warning Statement. Brewers also must follow the formulation requirements found at 27 CFR Part 25 (specifically, 27 CFR 25.55 – 25.58). When formula approval is required, brewers may submit them to TTB on letterhead.
Below is an excerpt from the Electronic Code of Federal Regulations regarding labeling requirements for malt beverages.
(a) On the brand label:
(1) Brand name, in accordance with §7.23.
(2) Class, in accordance with §7.24.
(3) Name and address (except when branded or burned in the container) in accordance with §7.25, except as provided in paragraph (b) of this section.
(4) Net contents (except when blown, branded, or burned, in the container) in accordance with §7.27.
(5) Alcohol content in accordance with §7.71, for malt beverages that contain any alcohol derived from added flavors or other added non-beverage ingredients (other than hops extract) containing alcohol.
(b) On the brand label or on a separate label (back or front):
(1) In the case of imported malt beverages, name and address of importer in accordance with §7.25.
(2) In the case of malt beverages bottled or packed for the holder of a permit or a retailer, the name and address of the bottler or packer, in accordance with §7.25.
(3) Alcoholic content, when required by State law, in accordance with §7.71.
(4) A statement that the product contains FD&C Yellow No. 5, where that coloring material is used in a product bottled on or after October 6, 1984.
(5) A statement that the product contains the color additive cochineal extract or the color additive carmine, prominently and conspicuously, using the respective common or usual name ("cochineal extract" or "carmine"), where either of the coloring materials is used in a product that is removed on or after April 16, 2013. (For example: "Contains Cochineal Extract" or "Contains Carmine" or, if applicable, "Contains Cochineal Extract and Carmine"). The statement that the product contains the color additive cochineal extract or the color additive carmine may appear on a strip label or a neck label in lieu of appearing on the brand label or back label.
(6) Declaration of aspartame. The following statement, in capital letters, separate and apart from all other information, when the product contains aspartame in accordance with Food and Drug Administration (FDA) regulations: "PHENYLKETONURICS: CONTAINS PHENYLALANINE."
(7) Declaration of sulfites. The statement "Contains sulfites" or "Contains (a) sulfiting agent(s)" or a statement identifying the specific sulfiting agent where sulfur dioxide or a sulfiting agent is detected at a level of 10 or more parts per million, measured as total sulfur dioxide. The sulfite declaration may appear on a strip label or neck label in lieu of appearing on the front or back label. The provisions of this paragraph shall apply to:

(i) Any certificate of label approval issued on or after January 9, 1987;
(ii) Any malt beverage bottled on or after July 9, 1987, regardless of the date of issuance of the certificate of label approval; and,
(iii) Any malt beverage removed on or after January 9, 1988.
Once your label is all set and, if required, your formula approval, then the next step is to fill out your label application forms and submit them to the TTB.
Label Application Forms & COLA Online
The TTB F 5100.31 application form is for a certificate of label approval, certificate of exemption from label approval, distinctive liquor bottle approval, or resubmission after rejection. The TTB F 5013.2 form is one of two ways to request a COLA (Certificate of Label Approval) online account from the TTB. You can also apply for a COLA account through the TTB website.
TTB F 5100.31 – Application for Certification/Exemption of Label/Bottle Approval (COLA)
TTB F 5013.2 – COLAs Online Access Request Form
COLA Online allows you to apply for a Certificate of Label Approval/Exemption for your product. Once you're registered, simply follow the instructions for submitting your online application. In most cases, once your application is submitted electronically, you're done. Best of all, there's is no fee to apply or forms to sign.
Non-Compliance Issues: ABSP and ABLA
Alcohol Beverage Sampling Program:
Every year, the TTB conducts a random sampling of alcoholic beverages as part of its "Alcohol Beverage Sample Program" (ABSP). TTB agents purchase products from the marketplace and take them back to their offices for review for label assessments to determine if products are in compliance with labeling regulations. Following the label assessments, they send the products to TTB laboratories to undergo a series of analyses to determine compliance with certain information displayed on the product labels. The TTB identifies compliance issues with the tested beverages like incorrect alcohol content levels and COLA discrepancies.
After receiving the results of the ABSP, the TTB will take several types of actions to address compliance problems like notifying the industry member about the violation and working with them to bring the product into compliance. If the violation is serious, the agency will coordinate other enforcement actions that may include investigations.
Alcoholic Beverage Labeling Act Penalty:
According to the TTB, the Alcoholic Beverage Labeling Act (ABLA): "requires that a health warning statement appear on the labels of all containers of alcoholic beverages manufactured, imported, or bottled for sale or distribution in the United States, as well as on containers of alcoholic beverages that are manufactured, imported, bottled, or labeled for sale, distribution, or shipment to members or units of the U.S. Armed Forces, including those located outside the United States." If the ABLA is violated, the person will be subject to a civil penalty of not more than $10,000, with each day constituting a separate offense (see 27 U.S.C. 218).
The Voluntary Disclosure Initiative
Launched by the Beer Institute, the Voluntary Disclosure Initiate asks brewers and importers to voluntarily include a serving facts statement and freshness dating on their products as well as disclose ingredients on either the label or secondary packaging via a list of ingredients, a reference to a website with the information, or through a QR code. There currently is no legal requirement to include this information, however, it may win you some points with customers. Visit the Beer Institute's website to learn more about the Voluntary Disclosure Initiate.
One Last Thing…
Don't put off reviewing beer labeling regulations to the last minute! The TTB is allowed up to 90 days to review your labels and while it doesn't always take that long, it's a good framework for planning your label production and brewing timeline. You can find the current TTB backlog schedule on its website under "Processing Times."
When you're ready to get your beer labels printed, we would be happy to help you. We offer a wide variety of label materials to achieve different label looks like clear, foil, matte, and more. Get an instant online quote, call us at 1-800-475-2235, or email sales@consolidatedlabel.com to start your order.