Printing Techniques: Flexographic and Digital
Flexographic Printing Techniques
Flexographic label printing uses plates to transfer inks (i.e. the printed image) onto labels. Due to the plate printing process, flexographic label presses require initial setup costs in preparing artwork, plate-making and registering of the printing plates when setting up your labels on a press. Flexographic printing is one of the most popular printing techniques in our industry because it can print large runs of custom labels at an affordable cost. Flexographic printing can work with a wide assortment of materials and technical capabilities. For instance, we can produce pressure-sensitive labels, shrink sleeves, holographic labels, multi-layer labels, and much more – all on the same flexographic press.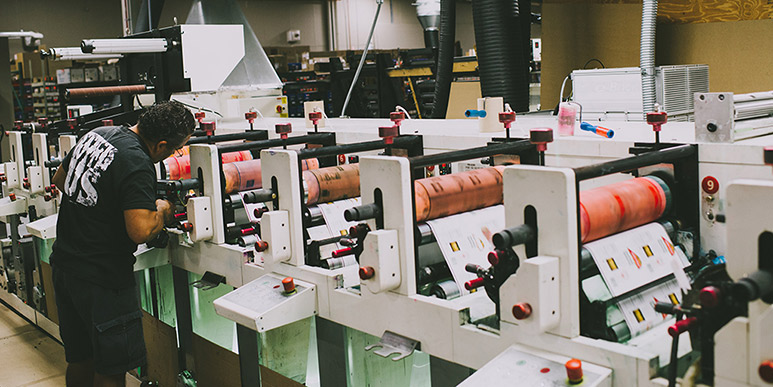 Digital Printing
We use only the best digital label presses designed for label printing to guarantee the best in quality and consistency. The setup costs for digital labels can be an ideal solution for smaller companies. Digital printing is also viable for those wishing to purchase a small quantity of product labels (i.e. short run labels – perfect for smaller projects or testing a new design).
The turnaround time for digital labels is quicker than flexographic because it bypasses the setup time needed to create plates. Digital label printing offers crisp, photographic quality graphics as well as the ability to print variable data.
Start on your labels with our instant online quote tool! For more information, please call 1-800-475-2235 or email sales@consolidatedlabel.com.
Further Reading
Call today to speak with a specialist about your unique project.
Or try our online instant pricing calculator.
Get Pricing