Shrink Sleeve Labels, Wraps, & Bands
Head-Turning Shrink Sleeves For Products
With head-turning graphics and vibrant colors, custom printed shrink sleeve labels have been shown to increase sales by 20% over traditional pressure sensitive labels.
Shrink sleeves are one of our most durable label products because they print on plastic or polyester film material – perfect for products that encounter moisture or friction.
Start on your shrink sleeves, please call us at 1-800-475-2235 or email sales@consolidatedlabel.com.
Contact Us For Shrink Sleeve Labels
Full-Body Shrink Sleeve Labels Add Packaging Appeal
Shrink sleeve labels maximize the marketing space on your product which allows for more opportunities to impress your customers. They're extremely effective for adding visual appeal to packaging thanks to their full-body design, especially when paired with a contoured bottle.
Not only do they offer more graphics coverage than regular labels, shrink sleeves are an ideal choice for products that face humid or moisture heavy environments, such as showers and refrigerators. Since the graphics print on the inside of the sleeve, the design does not damage regardless of condensation, friction, or rough handling.
Benefits of Shrink Sleeve Labels
Full color, 360° design coverage.
Fits most containers and can contour to special shapes.
Moisture and abrasion-resistant.
No adhesive makes containers reusable.
Glossy, matte, and texture finishes available.
For more information or to request a quote, please call us M-F 8 am-5 pm (EST) at 1-800-475-2235.
Although they can fit onto almost any kind of
container
, it's important to note that shrinking a sleeve onto shapes that taper downward can be difficult because the sleeve won't be able to grip the bottom of the container. Another consideration is the heat in steam tunnels because it can damage the container if it's not made to withstand above a certain temperature.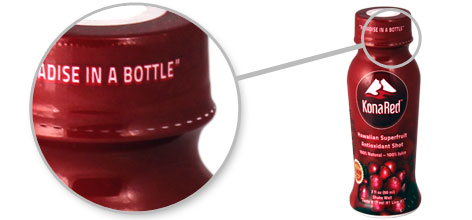 "I can't wait to have another job to work on with you guys. I was very impressed with the accuracy and quality of the product and the customer service. Everything exceeded my expectations."
~ Jeanine D., Nine Creations
More Reviews »
Tamper-Evident Seals and Shrink Bands
Shrink sleeves can also dual perform as a label and tamper-evident seal. Basically all we need to do is add a horizontal perforation near the cap. Customers save time and resources with shrink sleeves since the need to buy and apply two label products is non-existent.
If you don't want to completely rehaul your labels but would like to protect product contents, an excellent option is to use shrink bands. They work by shrinking a strip of film onto the cap and neck of a container to create a seal and typically it's perforated with a 'V' or 'T' cut to allow for removal.
Whether you want a tamper-evident seal for your shrink sleeves or a separate shrink band for products, we can help. Contact us today to learn more!
Combine Products with Multi-Packs
Combination packaging uses shrink sleeves to package and promote multiple items together as one unit. Packaging different size and shape containers together is simpler than ever with multi-pack shrink sleeves. After your promotion finishes, any multi-packs leftover converts back into individual units by removing the sleeve. Multi-packs are great for packaging multiple products into a single unit which makes for easier shipping, handling, and transportation.
Call today to speak with a specialist about your unique project.
Or try our online instant pricing calculator.