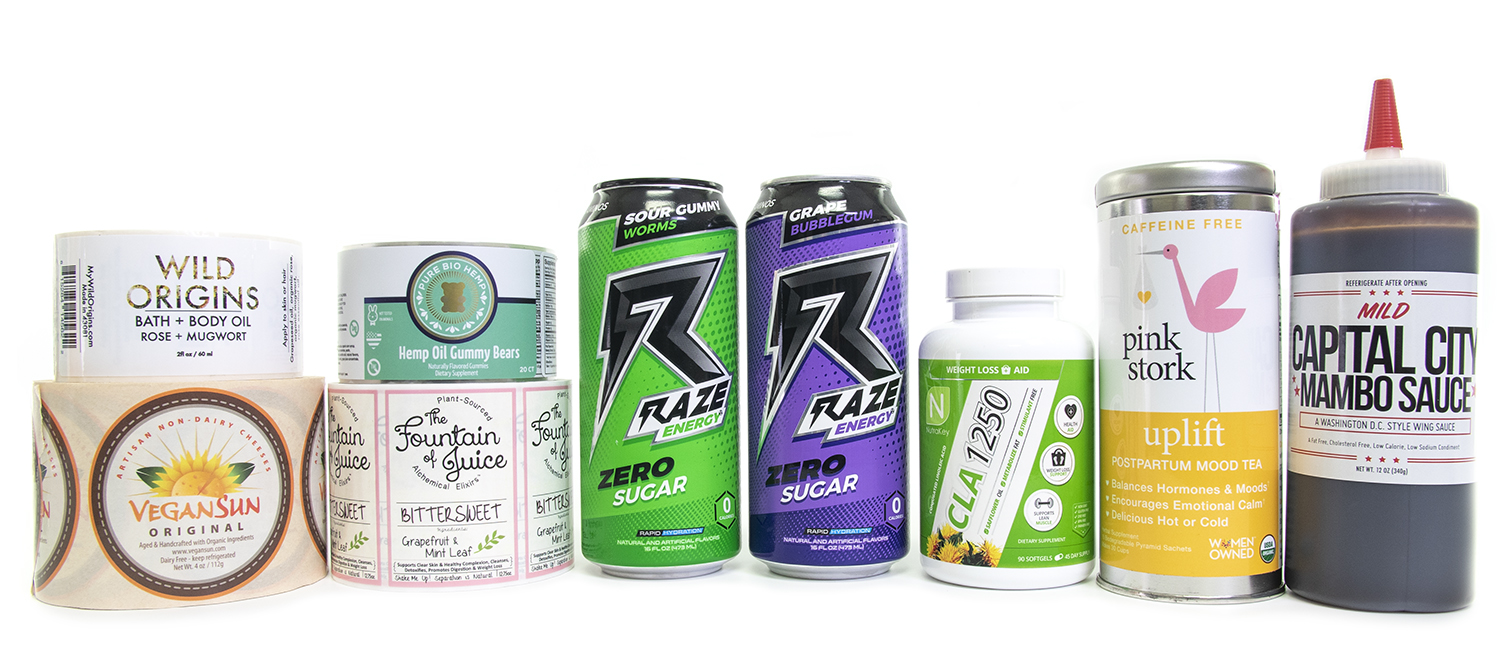 So, your new labels just arrived. You excitedly rip open the box only to be plunged into despair when you see that the color is way off! Although you can't go back in time to fix label color issues, there are steps that can be taken when designing the label artwork and printing the labels to ensure accurate and consistent colors. In this article, we'll explain how '4 color process' printing, spot colors, and materials affect label color and what you can do to get the right color so you won't have to fix label color issues.
First Things First – Is There An Existing Color To Match?
Before we get into a discussion about the characteristics and quirks that can cause color variations, let's make sure we have all the information we need to get the job done. If there are already products in the market that you want to keep consistent with your new labels, we'll need to see that existing packaging. It could be a bag, a box, or a custom color bottle. In order for us to make sure we're getting your color right so we won't have to fix label color issues, we'll need more than just a PMS number or a CMYK build code. We'll need to physically see what you already have so that we can make sure the color formulations on our end look right on the materials we're using for your labels. It's a simple step that can prevent a whole lot of frustration down the line.
4 Color Process Printing and Spot Colors
Whether your custom labels are printed on a flexographic or digital press, it will use what's called '4 color process' (aka 'process color') which applies varying layers of four ink colors – cyan, magenta, yellow, and 'key' black (CMYK) – to achieve full-color printing. Due to this layering process, however, a slight variation in color can occur which is why spot colors are used. Not only can spot colors achieve shades outside the spectrum of 4 color process, but they're also used for accurate and consistent color printing on labels, shrink sleeves, and flexible packets. Since label presses print 4 color process and spot colors, you (or the designer) should design the label artwork in the CMYK setting so you won't have to fix label color issues caused by the artwork file.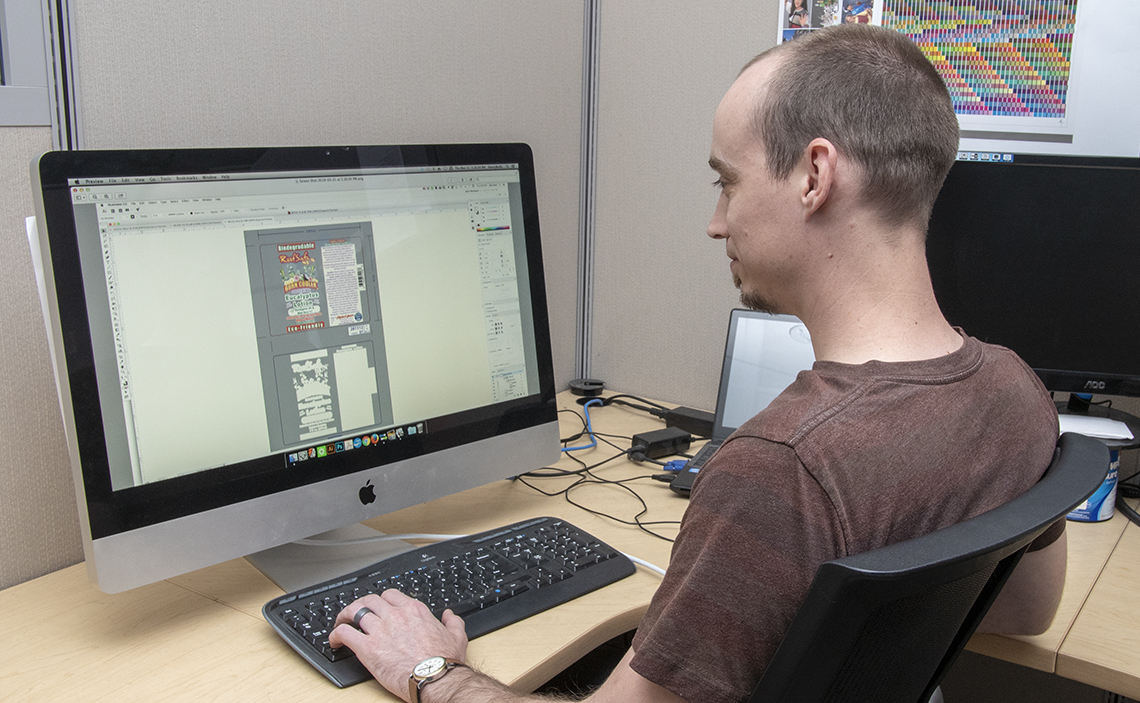 Design The Label Artwork In CMYK
Web and print design are different in several ways, in particular, when it comes to color. Red, green, and blue (RGB) colors are used for web design because those are the colors that are used on electronic screens like computers, smartphones, and TVs. Print, however, uses CMYK colors (cyan, magenta, yellow, and 'key' black) to reproduce color which is why it's crucial that the CMYK color setting is selected in the design program before the label artwork is created. This is helpful for two reasons:
It ensures that the color(s) will work with 4 color process printing
Converting colors from RGB to CMYK can alter their appearance
If you need to match a specific color, then you or the label designer will need to use a PMS color and let us know so we can print the 'spot color.' When a spot color is used along with 4 color process, then a standard four-color print job becomes a five-color job. Most of our presses handle up to 10 colors which means it does '4 color process' printing plus six additional printing stations for spot color inks and UV finishes.
Pantone® Matching System (PMS) For Spot Colors
The Pantone® Matching System (PMS) is a proprietary color matching system that is used in a variety of industries to select, match, and communicate shades. PMS helps to keep color consistent across multiple suppliers and production runs because the color standards are used by millions of designers and manufacturers around the world. And what do you know, it's also what we use for spot colors!
Before a spot color is printed, a computerized ink matching system pre-mixes the inks to their needed level to achieve the color. In order to do so, you will need to give us the PMS color number (Pantone has an online color finder but since electronic screens can display color differently from screen to screen, we recommend using a physical guide). In addition to the benefits of spot colors like color accuracy and consistency, they're also easier to adjust than 4 color process. In flexographic printing, when one area of a 4 color process job is being changed, all of the colors have to be adjusted. Spot colors, however, can be individually altered without affecting the rest of the colors being printed.
Note: Not all Pantone books will look the same because, over time, the book's inks can fade making the colors look different than when it was first printed. If you have chosen a specific Pantone color based on the books, we'll request a physical sample of that color to make sure the final result matches what you are seeing in yours. Of course, if you're viewing the colors online, you'll need to be aware that RGB monitors don't replicate CMYK colors correctly and that monitor calibration also varies. If you choose based on what you see on your monitor, the final result may be much different than what you expected.
How Label Materials Can Affect Color
The color's appearance can change depending on the material that it's printed on and some colors are not achievable at all on certain materials. For example, metalized silver paper and brown kraft paper can alter how a color looks unless we first print white then the color to achieve the right shade. This process is called "white underprinting" and it's often used on clear labels to ensure color opacity.
The environment can also impact how your label's color will look over time which is why letting us know what conditions your label will face (sunlight, moisture, etc.) will help us select the best materials for your custom labels. Additionally, finishes like glossy, matte, and texture can affect color by making it appear more vibrant or dull which should be taken into account during the design process.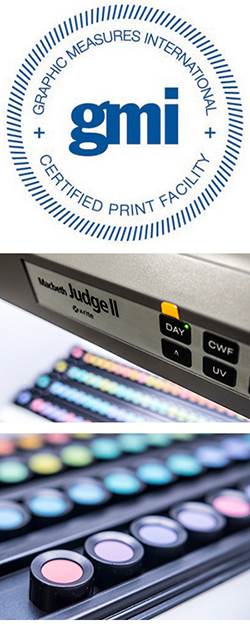 Our GMI Certification For Printing
We are certified from Graphic Measures International (GMI) for color matching accuracy on our flexographic and digital printing presses. The GMI certification helps identify label and package printing companies that adhere to high standards for color reproduction. As a GMI certified printer, we continually measure color samples from our presses against the tolerances of a finely calibrated 'spectrodensitometer' and provide random samples throughout press runs to verify that requirements are met.
By adhering to these strict standards, we're able to ensure consistent color quality within a production run, re-orders of the same item, multiple items in a production run, and consistent color from item to item. The five factors that GMI's certification program evaluates include:
Process control and documentation
Equipment maintenance
Training procedures
Operator capability
Equipment performance
We understand the importance of color and take every step to get it right through our quality control processes, training, equipment, and materials.
Contact Us to Fix Label Color Issues
Sometimes, you need an expert to fix a problem. Each member of our customer service team has an average of 15 years of experience in label manufacturing and many of them also have printing press experience. If looking for ways to fix your label's colors, our dedicated reps can help! Call us today at 1-800-475-2235 or email sales@consolidatedlabel.com.