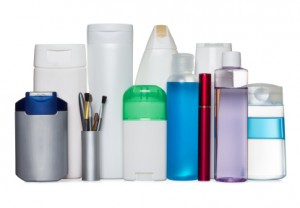 Save Time on Your Quote or Order
We often get questions from our customers about how to label tubes, spray bottles, glass jars, squeezable bottles, and more. If you're launching a new product or have multiple products with different containers, there are things you should consider to help you find a label that works with the container. The following information has steps you can follow to better ensure a successful label application.
A common misconception that our customers have is that there is a standard label size for each type of container. Unless your container is very small, you have some flexibility with the size and shape of your label. It's important to note that a special facestock and adhesive may be needed if your container has a tight circumference. Having the right materials will better ensure your label's edges don't lift off the surface after application (also known as flagging).
Acceptable labels for a particular container depend on several variables. Below are some points you should take into account before obtaining a price quote so the rest of your order won't be unnecessarily delayed.
Consider the container's shape – There are certain labels that work better for some containers more than others. Wraparound labels look best on round containers whereas it's easier to label square containers with front, back or side panel labels. Irregular shaped containers can also use pressure sensitive labels if it has a flat surface, or shrink sleeves since they can conform to ridges and curves.
Find the container you need – The easiest way to find a packaging container company is by searching on the Internet. You can also ask your label manufacturer if they recommend or have partnerships with any container or bottle companies. Once you know what the container will be, you will be able to give your customer service rep more specific information so you can get a faster and more accurate quote.
Don't forget about the application method – Labels can be applied either by hand or machine. If you want to machine apply your labels to different container types or sizes, the machine applicator has to be compatible with the containers' specifications. You can learn more about machine applications in our "Five Tips for Buying Labeling Equipment" article available on the blog.
Measure the container/bottle – Before you contact your label manufacturer, take down the measurements of your container so getting a quote is a smoother process. Having your measurements on hand will help your customer service rep give better suggestions on what labels can work with the container. Learn how to measure a bottle and get a label size using our calculator tool.
Your product's container is an important part of its complete packaging – both from a functional and design standpoint. Save yourself some time by having your container and its measurements readily available before getting a quote so your customer service rep can better help you get the best label application for your container. Keep in mind as you look around for a container that the one you choose can affect your label options and how your brand is perceived.