Food labels aren't the only things nowadays being scrutinized by consumers. Clear and accurate household cleaning labels are more important now than ever due to public concern over the effects of various chemical substances on the environment and consumers' health. Product owners can't afford to have inadequate information on their household cleaning labels because it can breed consumer mistrust, and possibly result in federal fines if the product's mislabeling is egregious. To help you avoid confusion with your household cleaning labels, we've created a list of some things you should know about government regulations and labeling requirements that can better protect your customers.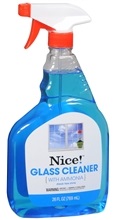 Who Regulates Household Cleaning Labels?
The U.S. Environmental Protection Agency (EPA) is responsible for regulating household cleaners as well as pesticides and other harmful substances. In 1996, the EPA started the Consumer Labeling Initiative (CLI) that created the "Read the Label First!" campaign with the aim "to improve product labels so that they are easier for consumers to understand; help consumers to become more aware of product labels and the information they contain; give consumers better tools for understanding label information; and encourage consumers to consistently and thoroughly read consumer product labels before purchase, use, storage, and disposal." Household cleaning labels should be designed with these principles in mind so that the company isn't accused of not being transparent enough about their product to consumers.
Labeling Standards to Know
Below are changes to product labeling that have resulted from the CLI, as well as, common practices from the household cleaner and pesticide industries. Whether you're a product owner or consumer, knowing this information can help you make better-informed decisions with household cleaning labels.
How to Use and Store Product
Household cleaners need to have concise instructions on how to safely use and store the product so consumers don't accidentally harm themselves or others. For example, household cleaners that are harsh on skin contact can recommend on its label to use protective gloves and clothing. Household cleaning products that have any harmful chemical ingredients should have easy to locate instructions for using and storing the product.
Warnings
Any known hazardous chemicals should be listed on the label with a warning that states potential risks, precautionary steps, and first-aid instructions. Active ingredients and disinfectants must be listed in case a consumer has a bad reaction to the product and needs medical attention. If inactive ingredients are on the product label, it should be listed as "Other Ingredients" instead of "Inert Ingredients" because using the later can lead to confusion for consumers.
First Aid Instructions
Consumers should be able to quickly find first aid instructions on the label in case the product is ingested, or gets in their eyes or skin. The EPA encourages product owners to use the phrase "First Aid" instead of "Statement of Practical Treatment" because it's simpler for consumers to recognize and understand. First aid instructions should avoid any jargon or complicated language so there's fewer chances that a consumer will misunderstand the information.
Common Names for Chemicals
As part of the CLI's goal to simply product labels for consumers, chemical ingredients should be listed with shorter common names approved by the American National Standards Institute. Using common instead of formal chemical names makes it easier for consumers to recognize the active ingredients listed on a label. If common names don't exist for some of your product's chemical ingredients, then your company should develop common names for them.
Telephone Numbers on Product Labels
An emergency helpline should be listed in case a customer needs to call for help – or there should at least be simple instructions on how and where to get emergency information. If you have a pesticide product and can't afford a 24 hour, toll-free emergency line, you can use the National Pesticide Information Center's toll-free number. The EPA encourages product owners to include other numbers in case a consumer has questions about ingredients, safety, directions and other information.
Quality labels are especially important in the household cleaning market because if the label bleeds, fades, smudges or comes off easily, consumers won't have access to vital safety information. Applying a laminate finish to your labels can help protect them against moisture, abrasion and constant handling. Talk to your customer service rep about materials that are best suited for your household cleaning labels so there are fewer chances that a customer won't be able to read it.