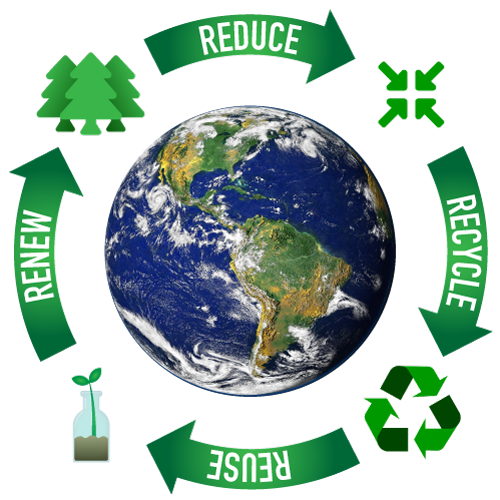 As an industry-leading label converter, Consolidated Label understands our corporate social responsibility to do better for our community and planet. Therefore, we are kicking off 2020 with our forever initiative to be more lean, green, and clean. We are adding dozens of new eco-friendly label and packaging materials to our portfolio including sugarcane fiber papers, compostable and biodegradable materials, recycled papers, naturally derived bio-based films, more FSC certified papers, thinner material labels for waste reduction, Cleanflake film, and more earth-conscious choices. Many of these also come with a wash-off adhesive to improve recycling or reuse. These solutions and practices will help us help the environment with our four-step environmental commitment: reduce, recycle, reuse, and renew.
Additionally, we are implementing a new recycling program that converts our formerly useless waste material into compacted cubes of fuel. This program, a partnership with a company called NuCycle Energy, is preventing hundreds of thousands of tons of material waste from going to the landfill by creating an alternative fuel that releases less harmful emissions than coal or fossil fuels.
We actually started working with NuCycle Energy late 2019 as a test-run before full company-wide installation, but this will officially be our first full year with the program. In November, its first full month, we were able to convert 120.57 tons into sustainable energy fuel cubes. That's 241,140 pounds of waste that avoided being disposed of in a landfill in just one month. And don't forget, this waste-reducing program creates energy alternatives out of our repurposed material waste. We are excited to keep working with NuCycle to do our part in keeping our planet cleaner. You can read more about NuCycle here or on their website.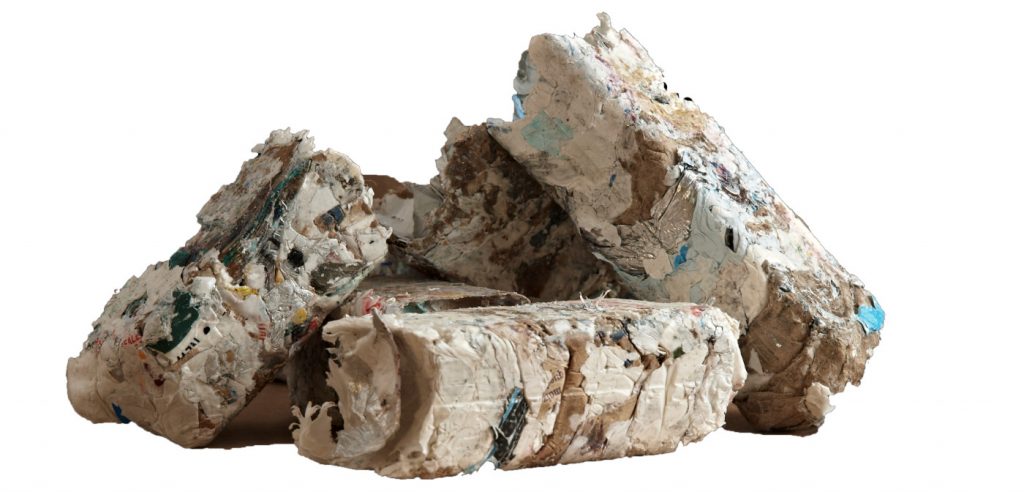 Lastly, we are constantly expanding our capabilities for recycle-friendly options when creating labels or shrink sleeves. One issue with shrink sleeves on glass bottles or aluminum cans was that it would be difficult to recycle the container with a PVC or PET material hugging the exterior. We are solving that problem by rethinking the shrink sleeve. Our new zipper-perf capability for shrink sleeves allows a post-consumer, non-recyclable PET or PVC shrink sleeve to be effortlessly taken off by the consumer to recycle the container. The perforation on the shrink sleeve is torn by the consumer and allows the sleeve to easily slide off of the container, making the recycling, refilling, or reusing process that much easier. It's the first of our revolutionary resource-saving capabilities, taking another step towards greener choices.
Historically, the environmentally sustainable options provided to the label industry have been neither cost-effective nor high-performance enough for widespread adoption. The addition of recycling programs, innovative mechanical capabilities, and new sustainable, low-energy, and recycle-friendly materials in recent years have expanded our options to be more eco-friendly. In the near future, there will be many more positive changes to further help the industry embrace sustainability; Consolidated Label Co. will continuously update our material selection, printing capabilities, and waste management to incorporate sustainable practices and be a proactive force in planet conservation.
We don't think you should have to choose between high-quality labels and an ethical, environmentally conscious label company. At Consolidated Label Co., we're making the effort to give you both so you can relax knowing that with every dollar you spend with us, you are voting for a greener life and cleaner planet.
We are proud to announce our green initiative in 2020 and hope that our sustainability mindset and mission will help others in the industry take the same steps toward a smaller carbon footprint. It isn't just a New Year's Resolution, it's a promise to continue to do our best for our community and our planet.