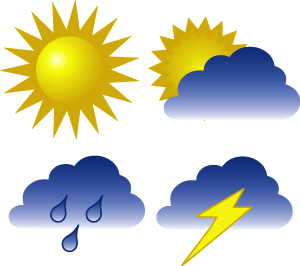 Common Uses
Custom weatherproof labels are commonly used on products that face moisture, direct sunlight and other less than ideal conditions for maintaining a label's quality. Popular in many outdoor and indoor applications, custom weatherproof labels can last up to several months and even years depending on how much sunlight exposure the label(s) receives. In this article, we will examine the various applications of weatherproof labels so you can be better able to determine whether this type of label is right for your project.
Weatherproof Label Capabilities
There are a lot of variables that weatherproof labels can face like water, sunlight, chemical, and abrasion. If your labels need to be water or chemical resistant, specifically mention to your label manufacturer what your weatherproof label needs to do. Direct sunlight is one of the biggest challenges of making labels that won't fade or deteriorate. Our weatherproof labels are best suited for environments with minimal to no direct sunlight. Below are some examples of markets that use weatherproof labels so you can get a better idea of how versatile these labels can be.
Warning and safety signage
Automotive
Construction
Pool and spa
Boating and marine
Note: If your label will primarily be used outdoor in direct sunlight, silk screen printing is the best method to maintain the label's quality. At this time, we do not offer silk screen printing.
Technical Aspects of Selecting Materials
One of the biggest challenges of maintaining a weatherproof label's quality is preserving the printed image – especially if it's in constant, direct sunlight. The sun can be a challenge because the label's inks can fade if it's not formulated to handle UV sun rays. Water can also be problematic to the label's printed image if the right substrate (material being printed on) and finish aren't chosen. To help you get a better understanding of what to look for when placing an order below is a breakdown of the basic elements of weatherproof labels.
Adhesive: Different adhesives are used depending on the label application.  Weatherproof labels need a more aggressive adhesive than a standard strength adhesive used for indoor applications.
Ink: Using fade resistant inks instead of regular water-based inks will help increase the lifespan of the label because it has higher grade pigments that will fade less in sun exposure. Since fade resistant inks are a special type of ink, ask your label manufacturer if they can procure it for you.
Substrate: Vinyl and polyester are types of film that can withstand freezing to hot temperatures (-50 to 200 degrees) and other elements like sun, chemical, and abrasion. Although paper is less expensive, it can absorb water even if a laminate is used because water can seep through the layers of paper and laminate, and ruin the printed image.
Finish: Applying a finish to your weatherproof labels can give it some extra protection when exposed to outside elements. We suggest you use a polyester laminate because it lasts much longer than polypropylene laminate and won't wear off like a varnish.
Printing method: As an industry standard, weatherproof labels are typically printed on a flexographic printing press. For better fade resistance against direct sunlight, we recommend you use silkscreen printing because silkscreen inks offer better fade resistance for bumper stickers and other specialty outdoor labels.
It's important to note that the temperature you apply weatherproof labels can affect its adhesion. That's why you should apply labels to room temperature containers unless you know for sure the adhesive can be applied at low or high temperatures. After the label is applied, the product can be in outdoor conditions without the adhesive being affected.
Getting Started with Custom Weatherproof Labels
Whether you're sure or undecided about weatherproof labels, below are some key points you can consider to help make the decision a little easier.
Look at your budget – Weatherproof label materials typically cost more than regular materials. You can help offset the cost of materials by increasing the number of labels in your order, therefore, lowering the unit cost per label.
Know your environment(s) – The product's ultimate use and environment should be able to help you determine if weatherproof labels are needed. If there's a good chance the label will be exposed to the sun, water, chemicals or abrasion, then weatherproof labels will be the best choice for your outdoor application.
Examine the product's contents – Through constant handling and use, it's possible for a product with harsh chemical contents to spill onto the container and damage the label. That's why a polyester label should be used as it can handle various damaging conditions.
Communicate your labeling needs – One of the best ways you can ensure your labels can handle outside conditions is to communicate all aspects of your labeling needs with your label manufacturer. Give them details about your product, legal requirements, goals, concerns, etc. so your customer service rep can guide to you to the right materials.
Picking the right kind of label for outdoor applications can be difficult if you're unfamiliar with the materials and technical processes of label printing. If possible, take the necessary time to examine your labeling needs so your custom weatherproof labels are more likely to be compatible with your product and its environment. Remember, open communications with your label manufacturer is essential for getting the right kind of weatherproof label.