Multi-Layer Label Sample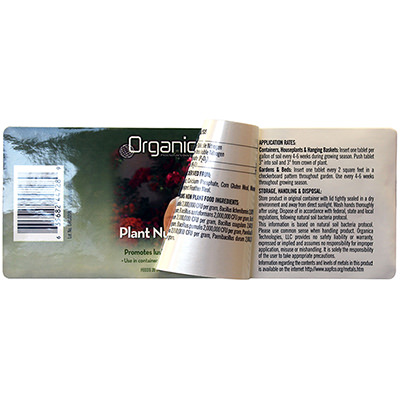 Multi-layer labels are a convenient way to add information such as directions, warnings, ingredients, multiple languages, etc. to your product without adding much bulk to the packaging. This 2.5″ x 6.5″ multi-layer label was printed on white film with 4 color process inks (cyan, magenta, yellow, and 'key' black) for full-color printing, one spot color, and finished with a high gloss UV coating for added protection.
To get started on your multi-layer labels, please call us at 1-800-475-2235 or email sales@consolidatedlabel.com
It can be hard squeezing product and manufacturing information onto a single label – that's where multi-layer labels can help. Also known as 'expanded content' labels, they are dual-layer laminated panels that are attached by a hinge to a pressure sensitive label. With no adhesive residue, the resealable top panel of the multi-layer label can peel back cleanly to reveal copy printed on the back of the top panel and on the top layer of the base.
Related Samples
« Back to Sample Gallery