Rinse Agent Label Sample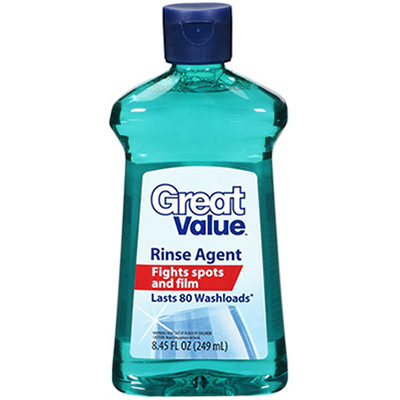 Customers are busy and want to find the what they need quickly – help make shopping easier with crisply printed labels that highlight your product's benefits and instill trust. This 3.125″ x 2.25″ rinse agent label was printed on cost-effective semi-gloss paper with 4 color process inks (CMYK = cyan, magenta, yellow, 'key' black) for full-color printing, finished with a UV gloss coating to protect the inks and paper, and then die cut with a custom shape to fit the bottle's contours.
Get started on your household cleaning labels by getting an instant online quote today!
We print all types of household cleaning labels – dish soaps, laundry detergents, pet shampoo, and more. One thing to consider with your product's packaging is how much information to include. Multi-layer labels are a great option if the product needs to display instructions, warnings, or multiple languages because they're able to contain a lot of information in a slim format. For custom multi-layer labels, please call us at 1-800-475-2235 or email sales@consolidatedlabel.com.
Related Samples
« Back to Sample Gallery