Problem:
Our account sales rep, Matt Hamilton, is based out of Denver, CO and has a customer that is in the very competitive sports drink business. The customer was looking for ways to improve his product line so his beverages look better and he could market his brand to potential buyers and partners. The sports drink industry does $8 billion+ in sales each year so getting a little piece of that pie could be a huge payoff. The problem was that "My customer's drink didn't really stand out from others," according to Matt. The customer was looking for suggestions on a new label material that could add a subtle metallic accent to the sports drink bottle, giving it just enough flash to differentiate itself.
Solution:
This particular sports drink is hot-filled by a co-packer like most sports drinks. Hot filling is a popular method for filling beverages and foods (pH of less than 4.6) that need to be shelf stable at ambient temperatures. Hot filled products can last up to 12 months on the shelf but hot-filled products can require a special material and adhesive to prevent the labels from wrinkling and potentially falling off due to expansion and contraction of the bottle. Hot filling a bottle also requires a bottle that will maintain it's integrity as it's filled with hot liquids.
The solution that Matt came up with was to print the labels on our metalized silver paper and use glossy lamination material to add glossiness and protection so the label maintained its look and quality when served on ice or refrigerated. We printed white on the areas where the customer didn't want the silver to show through, and in the areas where he wanted a metallic accent, we printed directly onto the metalized silver paper to give that color a shiny foil effect.
Outcome:
The final product was a hit with the customer's customer base! Now, more of their customers are featuring it in their gyms, athletic clubs, and on store shelves putting him ahead of the competition. The customer's next step is to market towards large college sports teams and fans by changing the color of the label to the home team's color. Matt, of course, will be rooting them on and helping them with their label needs as they evolve and grow.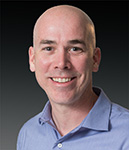 Need Labels, Shrink Sleeves, Packets, Flexible Packaging? Or just have a question?
Call, text, or connect with Matt Hamilton, our Western United States representative at (720)504-6521 or email matt@consolidatedlabel.com.