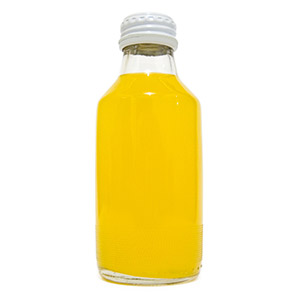 Most of the product that goes into the containers have already been pasteurized by the time the product is being filled. Hot filling is a popular pasteurization process, particularly for acidic beverages and foods (pH of less than 4.6) that need to be shelf stable at ambient temperatures. The heated product is filled into the container which is usually glass or PET plastic. A label material we use often for these types of products is white pearlescent polypropylene, a semi-conformable film. Often, high-pressure processing is used in place of heat pasteurization for juices and we also have labels that can be used with this process, such as white BOPP film with UV gloss lamination which has excellent moisture resistance.
Avoid Label Wrinkling
Containers and labels expand and contract when heated and cooled which can cause the label to wrinkle and bubble (this issue is more pronounced with plastic containers than glass). It's important to let us know that you need to label hot-filled products so we'll know to use a label material with a special adhesive to avoid label issues. We also recommend testing label materials before placing an order so you don't waste time and resources on the wrong label material. Material samples are available upon request.
After your hot-filled product has cooled and dried, the product is ready for labeling. You or the co-packer will need application equipment that will work with your pressure-sensitive roll labels or shrink sleeves. If you have pressure-sensitive labels, then a rotary labeling machine (also called 'rotary labeling system') or an inline automatic labeling system will be needed depending on the production line and output. Other considerations that will need to be taken into account are label adhesives, size, material, and placement (i.e. front and back, top and bottom, neck and shoulder, or wrapped around.) Adhesives are particularly important because a special adhesive will need to be used for hot-filled containers.
Another Solution: Shrink Sleeves
Another option for labeling hot-filled products is to use shrink sleeve labels which wrap around a container for 360-degree graphics coverage. Unlike pressure sensitive labels that use adhesives and are applied by pressure, shrink sleeves are shrunk onto the container using mechanical shrinking equipment like a steam tunnel, radiant heat tunnel, hot air tunnel, or hybrid tunnel (combines heat and steam). We recommend using a steam tunnel for shrink sleeves because it uses less energy to run than other types of tunnels, produces better results, and is easier to configure. Steam tunnels are becoming the label industry's standard method of shrinking sleeves onto filled product containers because of their relatively low temperatures (usually between 170-180 degrees) make it safe for filled products to pass through.
For more information on label materials for pasteurized products, please call us at 1-800-475-2235 or email sales@consolidatedlabel.com.