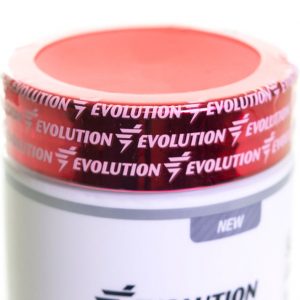 Accidental or intentional product tampering affects the quality and safeness of your product contents, but thanks to shrink bands, you're not defenseless against it. Shrink bands are strips of film that are shrunk onto the cap and neck of your product to create a tamper-evident seal. We'll explain what you need to know about shrink bands so you can see if they're a right fit for your product.
Since shrink bands are a specialty product, please call us at 1-800-475-2235 or email sales@consolidatedlabel.com to request a quote.
Different Styles, Colors, And Perforations
We can print shrink bands in a variety of styles. We can match your shrink band with a specific color or go completely clear to keep your original packaging look – the options are up to you.
We have some basic sizes that we recommend but our reps can also help you get exactly what you need with custom measurements for your container. Another consideration is adding a perforation to your shrink bands so consumers can remove the seal more easily. There are two perforation options we offer:
A 90° "T-Perf" cut where the vertical and horizontal perforation meet and form a "T"
A 75° "V-Perf" cut that creates a tab-style opening
While design is certainly important, you'll also need to have the right equipment to apply shrink bands to your products.
Applying Shrink Bands To Product Containers
Like shrink sleeves, shrink bands are shrunk onto the container using mechanical shrinking equipment like a steam tunnel, radiant heat tunnel, hot air tunnel, or hybrid tunnel (combines heat and steam). We recommend using a steam tunnel for shrink sleeves and bands because it uses less energy to run than other types of tunnels, produces better results, and is easier to configure. Steam tunnels are becoming the label industry's standard method of shrinking sleeves and bands onto filled product containers because their relatively low temperatures (usually between 170-180 degrees) make it safe for filled products to pass through.
We don't, however, recommend applying shrink bands with a hair dryer, microwave, or shrink wrap tunnel because shrink bands and sleeves need to be applied with a uniform spread of heat. Any type of shrink sleeve application should be done with equipment made specifically for shrinking. If you use a co-packer or plan on using one, make sure to check that they have the right equipment to apply your shrink bands.
Inspire Consumer Confidence With Tamper-Evident Shrink Bands
Not only can tamper-evident shrink bands protect the integrity of your product, they can also give customers a measure of assurance that your product contents are safe and fresh. We've been helping brands elevate their product's look with eye-catching shrink sleeve labels for years but they're not an option for every product or manufacturer and can be quite costly in smaller quantities. Tamper-evident shrink bands bridge the gap between shrink sleeves and labels, offering an element of security, while also being cost-effective.