Workout Supplement Label Sample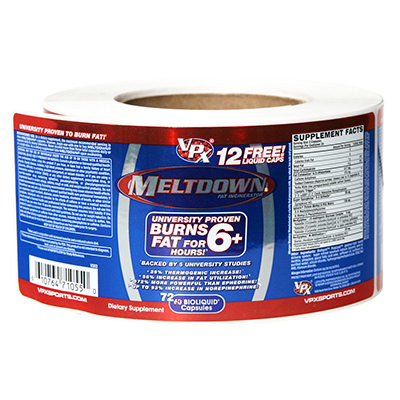 Adding a metallic accent to your labels is a great way to boost their visual appeal. This 3″ x 7″ workout supplement label was printed on semi-gloss paper with a rainbow foil stamp and finished with a gloss laminate. Dramatically transform your product packaging, enhance label artwork, or give your labels a unique look with foil.
Get started on your workout supplement labels by getting an instant online quote today!
There are two main ways we can print metallic labels – by printing on a foil material or cold foil stamping. Printing on foil paper or film is perfect if you want your labels to have a mostly metallic appearance whereas cold foil stamping is best for adding a metallic accent. Call us at 1-800-475-2235 or email sales@consolidatedlabel.com to learn more about these eye-catching labels.
Related Samples
« Back to Sample Gallery