The four R's – reusing, recycling, reducing, and renewing – are similar but distinct eco-friendly terms that share the same goal of protecting our environment. A lot of materials and energy go into producing and shipping new products; however, we can minimize negative impacts on the environment by changing our label materials and practices. As Consolidated Label Co. launches our green initiative, there is no better time to learn the similarities and differences between reusing, recycling, reducing, and renewing and how they can help you purchase labels that are better for the environment.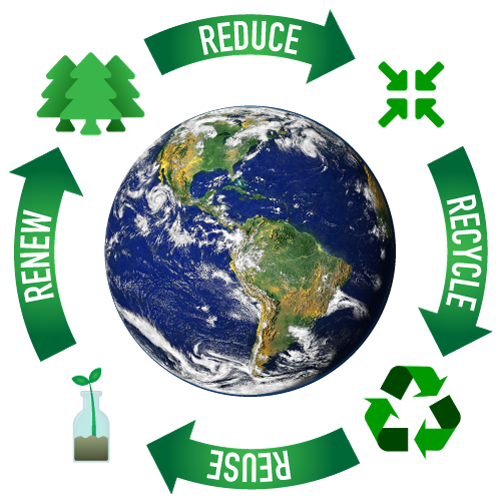 Reusing
Reusing a product container such as a bottle or jar creates less waste and pollution. Labels with a wash-off adhesive and shrink sleeves with a zipper-like perforation are easier to remove and allow containers to be reused, thereby keeping more stuff out of landfills. There are also new compostable label materials that can be used in compost bins which help to fertilize plants. Furthermore, we're partnered with NuCycle for their "end-of-use material lifecycle management" program which reuses unwanted or excess PET, PVC, paper, and all other label-printing waste into fuel cubes which produce fewer emissions than fossil fuel or gas.
Recycling
'Recycling' is the process of collecting and processing materials to turn them into new products. In label printing, however, 'recycled' means that the label stock contains materials recycled from the manufacturing process or post-consumer waste whereas 'recyclable' means the label can safely go through the recycling process. Consolidated Label Co. can procure both recyclable and recycled PET materials. We also offer label materials with a wash-off adhesive for easier recyclability, recycled wine stocks, and recyclable bio-film and bio-based paper. With our new recyclable label materials, more material can be created with less energy and water.
Reducing
Reducing our consumption of materials will by default lower waste. While reducing applies to physical items, it's also applicable to natural resources like water, electricity, and gas. For example, the new label materials in our portfolio are made with up to 50 percent less material (less material = less energy consumed). Thinner materials ship in fewer or lighter shipments, saving space on trucks and fuel. Another way to reduce label waste is to decrease the size of your labels so less material is used and more energy is conserved.
Renewing
Renewing the resources we use ensures that future generations will have those resources too. To support forest sustainability, you can use FSC-certified paper, new tree-free materials (e.g. sugarcane paper and cotton paper), and film and paper stocks that are made from renewable sources. Using a sustainably-sourced material helps to conserve forests and move materials away from fossil fuels.
Make the Switch to Eco-Friendly Labels
It's essential that we all do our part to protect the environment from unnecessary label waste by practicing the 4 R's – reusing, recycling, reducing, and renewing. In addition to using eco-friendly label materials, it's important to partner with vendors that have green initiatives like recycling and waste reduction programs. Consolidated Label Co. is proud to be that kind of environmentally conscious partner. Contact us at 1-800-475-2235 or sales@consolidatedlabel.com to see how we can help your business achieve eco-friendly labels!