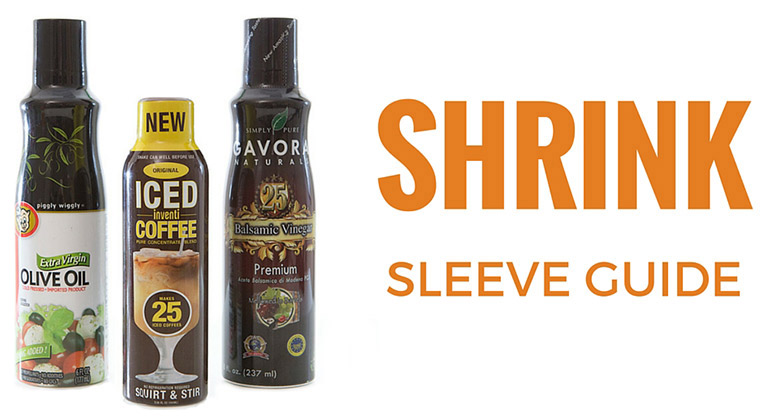 Section 1: What are shrink sleeves?
With more choices available on store shelves, businesses need a way to differentiate their product from competitors, and one way they're doing that is through shrink sleeve labels. Shrink sleeve labels are a relatively new type of label that has been making a name for itself in the label industry for several reasons:
Its full-body design allows for more creativity with graphics, color, and impact.
The sleeve film is durable, abrasion-resistant, and waterproof.
Labels can be removed from bottles and containers allowing the bottle/container to be reused.
Although shrink sleeves tend to cost more than other types of labels, they can in some cases increase market share and improve the product's shelf appeal. Shrink sleeves can also decrease container costs because a generic, cost-effective container can be used since the product is completely covered with the sleeve. These labels are used in a wide variety of industries and will continue to grow in popularity as companies see the benefits of shrink sleeve labels. Our shrink sleeve guide will help you learn more about these eye-catching label products and how they can work for you.
Section 2: Why should you pick shrink sleeves?
The Benefits
With its full body design and high-quality graphics, shrink sleeves are a great way to attract new and potential customers. With high consumer demand, studies have shown shrink sleeves to boost sales by as much as 20 percent. Below are some key benefits and uses of shrink sleeves.
Applicable on plastic, glass, and metal packaging containers.
Shrink material is damage resistant.
Seamlessly fits onto many uniquely shaped bottles and containers while accenting the shape.
Can incorporate a tamper evident protection seal to ensure a product's safety.
Its 360-degree design can fit contoured areas allowing for more display area for the label design.
The design is printed on the inside of the shrink material so the artwork doesn't easily bleed, fade, or smudge.
Various marketing and promotional opportunities: multi-packs, cross-merchandising, promotional band, on-pack sample promotions.
Industries Using Shrink Sleeves
Almost every product industry can use shrink sleeves, however, we have found that certain industries benefit the most from shrink sleeves.
Food & Beverage – Shrink sleeves work well with food and beverage products (especially juices, energy, drinks and alcoholic beverages) because the tamper evident protection seal keeps food and beverage products from being opened intentionally or unintentionally. The aesthetic design also can tempt consumers' taste buds with vibrant colors and graphics.
Pharmaceutical & Nutraceutical – Product safety is an important factor when making custom labels for the pharmaceutical and nutraceutical industries. Shrink sleeves' tamper evident protection seal, damage resistant material, and structural design decreases the chances of a product being accidentally or purposefully opened. Complying with government regulations is easier with shrink sleeves because the graphics and text can be updated while allowing the containers to be reused for the new shrink sleeve.
Household Cleaning Products – Detergents, soaps, and cleaning agents can benefit from shrink sleeve labels because its material can withstand moisture, friction, and varying temperatures. In most cases, household cleaning products using shrink sleeves will look as new as the day they were bought regardless of how many times the product has or will be used.
Section 3: Shrink Sleeve Label Printing and Application
Mechanical application is generally preferred over hand application because it's less labor-intensive and quicker. Mechanical shrinking equipment like radiant heat tunnels, hot air tunnels, steam tunnels, and hybrid tunnels (combines heat and steam) are some of the most popular methods for shrinking sleeves onto containers. We can manufacture single cut sleeves or provide sleeves on rolls to best suit your application needs.
For internal quality checks and prototyping, we use a steam tunnel. We recommend that customers also use a steam tunnel for their shrink sleeve applications because it uses less energy to run than other types of tunnels, produces better results, and is easier to configure. Steam tunnels are becoming the label industry's standard method of shrinking sleeves onto filled product containers because its relatively low temperatures (usually between 170-180 degrees) make it safe for filled products to pass through. There are copackers who will apply your sleeves if you don't want to purchase the equipment.
The label design is mirrored and printed on the inside of the shrink sleeve material using a flexographic or digital printing press.
The printed material is checked for quality control by machine and human inspection.
The printed material is seamed together by machine using a small amount of a heated adhesive to create the sleeves for application.
The roll of sleeves goes through an air inspection machine to ensure the integrity of the seam.
The sleeves are wound up on a roll or cut into individual sleeves depending on the order.
For more information or to request a quote, please call us at 1-800-475-2235 or fill out the contact form below.

Editor's Note: This post was originally published in April 2013 and has been updated for accuracy and comprehensiveness.